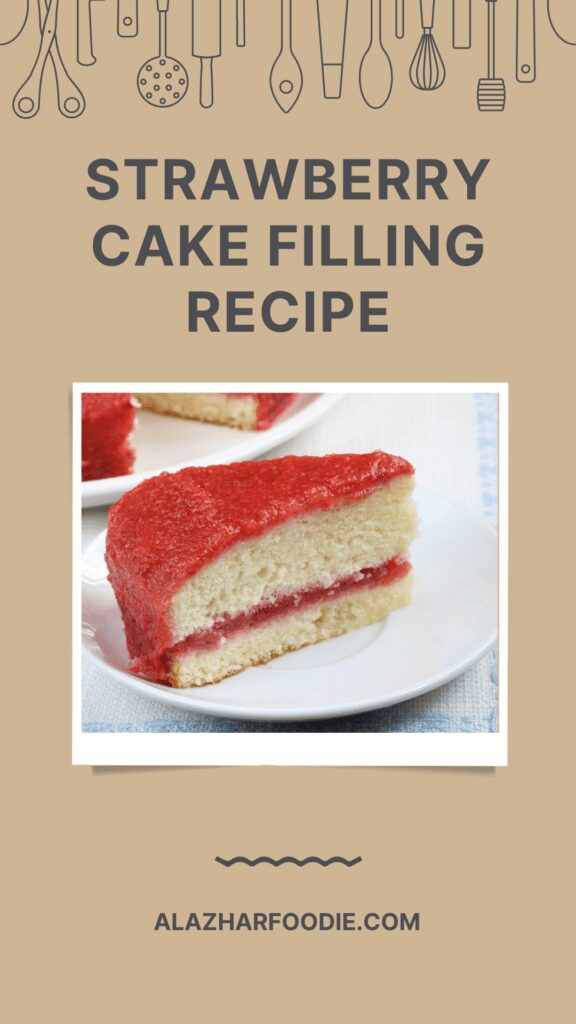 Strawberry Cake Filling Recipe
Topic: Strawberry Cake Filling Recipe
Table of Contents
Strawberry Cake Filling Recipe
Introduction:
"With our delicious Strawberry Cake Filling recipe, indulge in the delicious flavour of fresh strawberries. This decadent filling transforms your favourite cakes by adding a colourful and fruity touch while bursting with the natural sweetness of ripe strawberries. Our simple recipe will show you how to make a thick strawberry filling that is ideal for spreading between layers, whether you're constructing a stacked masterpiece or simply want to upgrade a traditional cake. Get ready to infuse your cakes with the taste of summer and a burst of delicious flavour!"
Strawberry Cake Filling Recipe
Print
Strawberry Cake Filling Recipe
Strawberry Cake Filling Recipe
Author:
Prep Time:

5

Cook Time:

10

Total Time:

15 minutes

Yield:

2 cups

1

x
Category:

Dessert

Cuisine:

Italian
3 cups

fresh strawberries, cleaned and hulled (

450 g

).

1/3 cup

of sugar.
Lemon juice, 2 teaspoons.

2 tablespoons

or

22 gram

mes of cornflour.

5 tbsp

water, or enough to produce a thick cornflour paste.
Only use

1/4 cup

water if the filling is very thick.
Instructions
Mix thoroughly with the strawberries, sugar, and lemon juice in a large pan.
Turn on the burner and simmer the strawberries for a few minutes.
For 4-5 minutes, until the mixture boils, cover the pan with the lid and cook.
At this point, the strawberries should be soft.
Strawberries should be exposed and roughly mashed with a fork or spoon back.
For one minute, cook it with the lid off.
Meanwhile, combine water and cornflour to make a thick liquid paste.
You may also prepare a cornflour slurry with the cooking liquid from the strawberries.
Slowly add the slurry with one hand while using the other to mix the filling continuously.
Within seconds, the strawberry filling thickens.
If too thick, add ¼ cup water and heat for 1-2 minutes.
It should have a thick texture rather than being watery.
It is ready when the filling is thick enough to cover the back of the spoon.
The mixture thickens significantly when completely cooled, becoming a thick jam.
As directed, keep until use.
Notes
Makes about 2 cups of filling.
Around 30 strawberries were utilised.
The formula is simple to alter in any direction.
The handmade strawberry filling's shelf life 
When cooled, store in a glass jar or an airtight container.
Good for a week in the fridge.
Any filling that is left over can be frozen for three months.
Place items in freezer-safe zip-top bags.
Do not refreeze after thawing.
Tips for creating a fantastic strawberry filling:
For a speedier cooking method, slice or chop strawberries into halves.
If the strawberries are sour, add 1/4 cup of sugar.
Strawberries from frozen are excellent. Cooking might only take a few minutes longer.
Cook strawberries as directed if you prefer it smooth like jam.
If you'd like, you can add an extract of your choice to the filling.
Strawberries can be replaced with any other berry or a combination of berries.
Nutrition
Serving Size:

1

Calories:

49kcal

Sugar:

9g

Sodium:

1mg

Fat:

1g

Saturated Fat:

1g

Carbohydrates:

12g

Fiber:

1g

Protein:

1g
Keywords: best strawberry cake filling recipe, how to make strawberry cake filling from scratch , strawberry cake filling easy
Strawberry Cream Filling For Cake Recipe
Print
Strawberry Cake Filling Recipe
Strawberry Cream Filling For Cake
Author:
Prep Time:

5

Cook Time:

20

Total Time:

25 minutes

Yield:

12

–

16

SERVINGS

1

x
Category:

Dessert
1 cup

cold heavy whipping cream
(Adjust to taste) 1/4 cup powdered sugar
Vanilla extract, 1 teaspoon

1/2 cup

coarsely sliced, hulled fresh strawberries
For flavour and colour addition, add 1-2 tablespoons of strawberry jam or preserves.
Instructions
Get the Strawberries ready:
The fresh strawberries should be washed, hulled, and coarsely chopped. You may alternatively purée the strawberries in a blender or food processor if you prefer a smoother filling.
Chilling Mixing Tools:
Before beginning, freeze a mixing bowl and beaters (or the whisk attachment of a stand mixer) for about 15 minutes. Equipment that has been chilled will whip cream more quickly and effectively.
Make the Cream Whip:
Take the beaters and the cooled mixing bowl. Pour the bowl with the chilled heavy whipping cream. Whip the cream at medium-high speed to start until it begins to thicken.
Sweetener to Add:
Whip the cream while you add the powdered sugar gradually. Depending on how sweet you want things, adjust the sugar amount. Whip up stiff peaks as needed. The cream maintains its shape and doesn't sag when the beaters are raised if the peaks are stiff.
Flavour Up:
Add the strawberry jam (if using) and vanilla essence, and cut the strawberries gently. Folding is a gentle mixing method that aids in keeping the whipped cream's airy texture.
Taste and Modify:
Taste it first when adjusting the strawberry cream filling's sweetness or flavour. At this point, if desired, you can add more powdered sugar or strawberry jam.
Build the Cake:
Spread a thick strawberry cream filling between the cake layers after cooling. Before filling with the strawberry cream, you can make a buttercream dam around the edge of each layer if you're concerned that the filling would cause the cake to become too soft.
Decorate:
The cake's top and sides can be iced with the leftover strawberry cream. Add more fresh strawberries or other ornaments as desired for garnish.
Chill:
Before serving, it is advised to let the cake chill in the fridge for a bit. This aids in the cream filling setting and facilitates clean cake cutting.
Enjoy your cake packed with strawberry cream! Due to the filling's dairy composition, keep any leftovers in the refrigerator.
Notes
Whipping Cream Consistency: Stop whipping the heavy cream as firm peaks form. The cream may form due to overwhipping, which will alter the texture of the filling.
Ingredients that need to be chilled: Before beginning, make sure that your heavy whipping cream, mixing bowl, and beaters are all completely cooled. This helps produce whipped cream with a consistent texture.
Folding Method: When combining the strawberries and optional jam, gently fold to avoid collapsing the whipped cream. This keeps the filling's light texture.
Cake Layer Preparation: Before spreading the strawberry cream on top of each layer, make a "dam" of buttercream around the edges if you are worried the filling will make the cake too moist. The filling is kept in check by this.
Refrigeration: Once the cake has been assembled, it must be refrigerated before serving. This enables the cream filling to harden, which facilitates cutting and serving. Additionally, keep any leftovers in the refrigerator because of the dairy content.
You'll be well on your way to making a delightful strawberry cream-filled cake that is aesthetically pleasing and delicious if you keep these important considerations in mind.
Nutrition
Serving Size:

1

Calories:

200kcal

Sugar:

12g

Sodium:

25mg

Fat:

15g

Saturated Fat:

10g

Carbohydrates:

15g

Protein:

2g

Cholesterol:

60mg
Keywords: strawberry cream filling for cake recipe, strawberry whipped cream cake filling recipe, how to make a strawberry cream cake filling, strawberries and cream cake filling recipe
People Also Ask:
What is strawberry filling made of?
Just cook strawberries, sugar, cornstarch, and lemon juice until thickened. It has such a delicious flavour and goes great with baked foods. This tip will add so much flavour to your cakes that everyone will return for more.
Which cream is used for strawberries?
Fresh cream with a 25% fat content, or strawberry cream, is essentially light. Sometimes known as whipping or heavy cream, 35% to 50% fat cream is simple to use. However, make sure to use and chill. This Strawberry Cream recipe is quite straightforward.
Does strawberry filled cake need to be refrigerated?
Fruit fillings are, in fact, perishable. Even though I don't think this cooked strawberry filling would spoil as soon as a whipped cream filling, it should still be kept in the refrigerator until closer to the event.
How do you add filling to a cake?
A filling can be a wonderful way to flavour and moisture a cake. A general step-by-step tutorial for adding filling to a cake is provided below:
Prepare the cake layers: Bake them according to the recipe and allow them to cool completely. The cakes must be at room temp before the filling is added.
Levelling the cake layers (optional): You can use a serrated knife or a cake leveller to level them if their tops are domed or uneven. This will provide the filler with a level surface to sit on.
Decide on your filling: Choose the filler you want to use. Popular choices include ganache, pastry cream, whipped cream, buttercream icing, and fruit preserves. Make sure your filling has the proper spreading consistency.
Create a dam (optional): It's a good idea to pipe a frosting border around the cake layer's borders if your filling is mushy or runny. This aids in keeping the filler in place and stops leakage. To pipe a ring of frosting around the edge of the cake layer, use a piping bag with a round tip or a zip-top bag with the corner cut off.
Add the filling:
If you made a dam, place the filling inside it in the middle of the cake layer.
Avoid overfilling the cake as it may become fragile and collapse from too much filling.
Spread the filling evenly using an offset spatula or the back of a spoon.
The cake layers are stacked: Evenly arrange another cake layer on top of the one with the filling. The layers should be firmly pressed together. In case there are other levels, repeat the procedure.
Frost the cake: After arranging the layers, frost the cake however you like. This will aid in sealing the filler and produce a polished appearance.
Optional: Chill the cake briefly before serving if your filling is perishable or if you want the flavours to merge. Additionally, the cake will be simpler to cut by allowing the filling to solidify.
Remember that the methods and ingredients may change based on the style of cake and filling you select. It's usually a good idea to stick to a detailed guide or follow a precise recipe for the greatest outcomes.
How long does cake filling last?
Some fillings have a shelf life of just a few days. Others barely last a few hours, a day, or a half at room temperature. To properly keep the cake once you deliver it, you must notify your consumer.
Recommended Articles:
How To Make Iced Coffee With Creamer?
Broiled Steak Seasoning Recipe
Recipe For Chicken Tenders And Rice