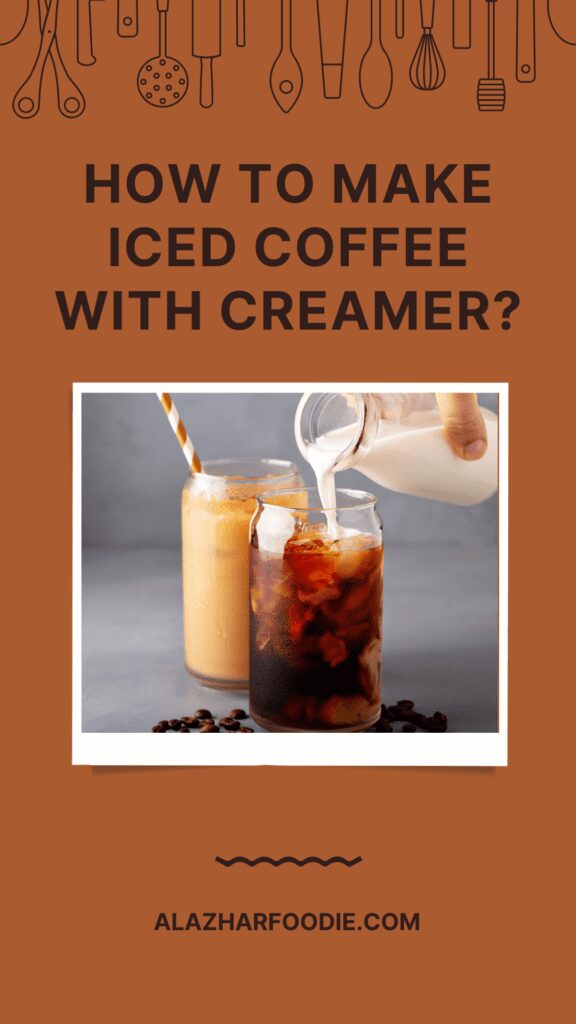 How To Make Iced Coffee With Creamer?
Topic: How To Make Iced Coffee With Creamer?
Table of Contents
How To Make Iced Coffee With Creamer?
Introduction:
Here is your go-to recipe for a refreshing and creamy coffee treat: Iced Coffee with Creamer. You can prepare a delicious iced coffee with this easy recipe, which is great for hot days or whenever you need a pick-me-up.
You can make a unique beverage that suits your tastes by altering the coffee's strength, choosing your favourite creamer, and adding a little sugar if you'd like. This recipe can help you make the perfect iced coffee, whether you want it traditional and creamy or with a bit of flavour. Make your delightful cup of chilled bliss by getting started now!
How To Make Iced Coffee With Creamer?
Print
How To Make Iced Coffee With Creamer?
Iced Coffee With Creamer Recipe
Author:
Prep Time:

10

Cook Time:

5

Total Time:

15 minutes

Yield:

12 ounces

Category:

Drink
Medium-to-coarsely ground coffee
Water
Ice cubes
Coffee creamer (flavour of your choice)
Sweetener, if desired
Vanilla extract (optional)
Instructions
Brew the Coffee:
Make a pot of strong coffee first. Traditional coffee makers, French presses, and cold brew concentrate are options. Mix coarsely ground coffee and cold water in a 1:4 coffee-to-water ratio to make a cold brew concentration. Drain the mixture after steeping for 12 to 24 hours in the refrigerator.
Use half the water in a regular coffee maker for a strong cup.
Cool the Coffee:
Coffee should be allowed to cool to room temperature.
Putting the coffee in the fridge or pouring it over ice can hasten chilling.
Make the Iced Coffee:
Ice cubes should be added to a glass. Ice depends on coffee strength and creamer space.
Add Sweetener and Creamer:
Pour cooled coffee over ice cubes.
Add the quantity of coffee creamer that you prefer. If you like, the creamer can be either flavoured or plain. Use a small amount at first, then add more if desired.
If you want your coffee sweet, sweeten it with sugar, honey, syrup, or another preferred sweetener. To ensure that the sweetener dissolves evenly, stir thoroughly.
Optional Flavourings:
You can add a few drops of vanilla extract, almond extract, or any other flavouring you choose to your iced coffee to improve the flavour. These extracts are typically fairly strong, so use caution while determining the quantity.
Mix and Savour:
Stir well to blend the creamer, sweetener, and flavours into your iced coffee.
Add-ons (Optional):
Whipping cream, chocolate shavings, a dash of cinnamon, or any other garnish you choose can be added to your iced coffee.
Serve right away:
Fresh iced coffee is the greatest. Take advantage of the excellent, energizing flavour by serving it right away.
You are welcome to change the quantity of coffee, creamer, sweetener, and flavourings to suit your preferences. You can make the ideal iced coffee with creamer to suit your palate.
Notes
Strength and Dilution of Coffee:
Because the ice and creamer will dull the flavour of the coffee, brew it stronger than normal. Consider utilizing a coffee-to-water ratio of 1:2 to 1:3 when using hot brewed coffee. Aim for a coffee-to-water ratio of 1:4 when making a cold brew. You can change this ratio to suit your tastes.
Cooling Techniques:
Pouring hot, freshly brewed coffee over ice will dilute the flavour, so try to avoid doing so. Instead, allow the coffee to cool to room temperature by putting it in the refrigerator or letting it settle. Cold brew concentrate should be diluted with water or milk before drinking.
Creamer Texture:
Creamers come in a range of consistency options, including liquid and powder. Pick a creamer that meets your tastes and is simple to dissolve in cold beverages. For iced coffee, liquid creamers are typically the most practical.
Using Sugar Wisely:
In flavoured creamers, sweetness is often added. To prevent making your coffee too sweet, taste it before adding more sweetness. To distribute sweeteners evenly, dissolve them in warm coffee.
Experimentation and Personalization:
You can adjust the ingredients in this recipe to suit your tastes. Try out various coffee flavours, creamer varieties, sweeteners, and added flavourings like extracts or syrups. Start with lower amounts of these additives, though, as they can easily overwhelm the beverage if not utilized carefully.
Everyone has different tastes, so modify the recipe to suit your preferences. These significant points can assist you in making a fantastic iced coffee with creamer that satisfies your palate, regardless of whether you're going for a strong coffee flavour, a creamy and sweet treat, or something in between.
Nutrition
Serving Size:

12 ounces

Calories:

50kcal

Fat:

3g

Carbohydrates:

5g
Keywords: can you put creamer in iced coffee, how to make iced coffee with creamer,how to make iced coffee with powdered creamer, how to make iced coffee with creamer
People Also Ask:
Can you use coffee creamer for iced coffee?
Fill a 12-ounce glass with ice and coffee. Add creamer, stir, drink, and relish!
What does creamer do in iced coffee?
Black coffee, espresso, or tea can be lightened and sweetened using coffee creamer.
How to make iced coffee with powder creamer?
In a glass, mix the coffee, powdered creamer, and honey. Mix thoroughly with a spoon while adding the boiling water. Add the ice cubes and cold water. Stir thoroughly, then serve.
How do you make coffee with coffee creamer?
Simply whisk it into your coffee after adding it. Start with a small amount and add more to taste because some creamers are sweeter than others. Getting the powdered creamer to dissolve in your iced coffee might take a little more swirling. For iced coffee, liquid creamer works best.
Can I use coffee creamer instead of milk for icing?
Yes, coffee creamer can be used in place of milk when making icing. However, consider that various coffee creamer varieties could have varying flavours and consistencies, so you may need to change the recipe's amount accordingly. It's always a good idea to sample the icing and alter the sweetness and consistency as necessary to get the ideal outcome.
Is coffee creamer just powdered milk?
Unlike some coffee creamers, powdered milk contains whole or pasteurized milk. The creamers contain sugars, vegetable oils, and water. Milk powder won't help you if you are lactose intolerant or sensitive to the hormones in dairy products.
Recommended Articles:
Mexican Breakfast Tacos Recipes
Fruit Salad Recipe With Cream Cheese
Sausage Casserole With Cabbage
How To Cook Ground Beef Tacos?