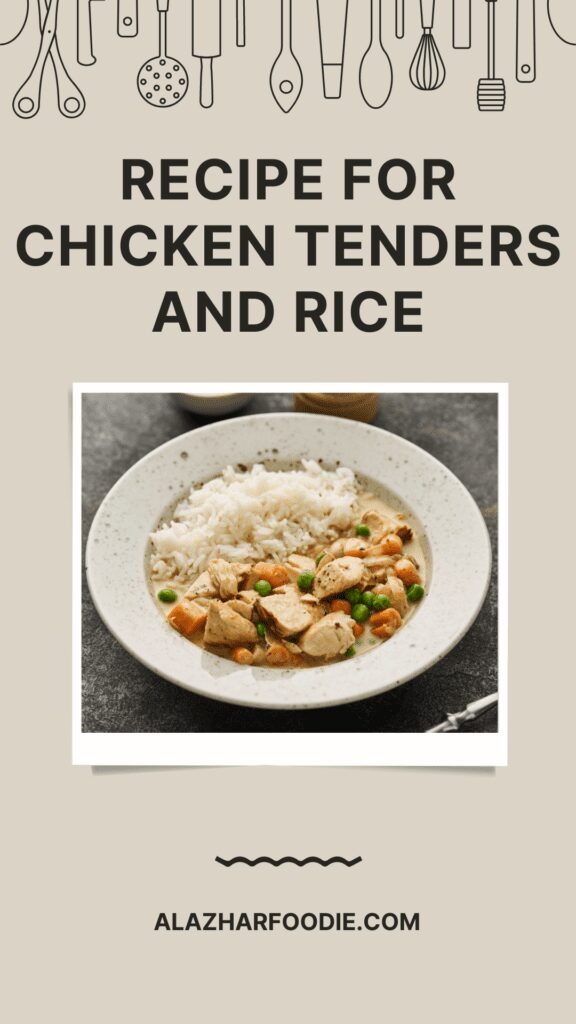 Recipe For Chicken Tenders And Rice
Topic: Recipe For Chicken Tenders And Rice
Table of Contents
Recipe For Chicken Tenders And Rice
"Are you seeking a quick and filling meal? Our chicken tenders and rice recipe combines fluffy, precisely cooked rice with crispy, golden-brown chicken tenders. Every bite of the perfectly breaded crispy tenders has a delectable crunch. This meal is a lovely fusion of tastes and textures when served with soft long-grain rice. This recipe is a go-to choice that is easy to prepare and wonderfully delicious, whether cooking for your family or a casual get-together.
Recipe For Chicken Tenders And Rice
Print
Recipe For Chicken Tenders And Rice
Recipe For Chicken Tenders And Rice
Author:
Prep Time:

20

Cook Time:

30

Total Time:

50 minutes

Yield:

4

1

x
Category:

Dinner

Cuisine:

American
Chicken Tenders:
1 lb. of chicken tenders

all-purpose flour, 1 cup

2 beaten eggs

breadcrumbs, 1 cup

1 salt shaker

Black pepper, half a teaspoon

1/2 teaspoon optional paprika

frying using cooking oil

For Rice:
Long-grain white rice, 1 cup

2 cups of chicken broth or water

1 tablespoon olive oil or butter

Salt as desired
Instructions
Prepare the Chicken Tenders:
To keep the fried tenders warm while you finish frying, preheat the oven to 200°F (93°C).
Create a breading station by adding flour to one bowl. Beat the eggs in another bowl. Combine breadcrumbs, salt, pepper, and paprika in a third bowl.
Each chicken tender is first dipped in the flour, with the excess shaken off. Dip the object into the beaten eggs and let the excess drop off. Place the tender in the mixture of breadcrumbs and press lightly to coat.
About 1/2 inch of cooking oil should be heated in a big pan over medium-high heat. The coated chicken tenders should be fried in batches for 3–4 minutes on each side or until golden and thoroughly done. Transfer to a plate covered with paper towels to drain. While frying the remaining batches, keep warm in the oven.
Rice Preparation:
Rinse the rice in cold water until the water is crystal clear.
Heat the butter or the olive oil in a medium saucepan over medium heat. Rice that has been rinsed should be added and sautéed for a few minutes until transparent.
Add a pinch of salt and water or chicken broth to the pot up to a boil.
When the rice begins to boil, turn the heat down to low, cover with a tight-fitting lid, and simmer for 15 to 20 minutes, or until the liquid is absorbed and the rice is soft. With a fork, fluff the rice.
Serve:
Arrange crispy chicken tenders on a dish.
A large scoop of fluffy rice should be placed next to the tenders.
Serve with sides and dipping sauces, such as ranch dressing, ketchup, barbecue sauce, honey mustard, or honey.
To finish the dish, include a salad or some steamed veggies.
Enjoy your delicious home-cooked rice and chicken tenders lunch!
Notes
Breading Method: Follow the flour, egg, and breadcrumb breading order to coat the chicken tenders properly. A crispy and delicious outer layer is produced as a result.
Temp. of the oil: When frying the chicken tenders, keep the oil at the proper temperature. They could burn on the outside before fully cooking if it is too hot, and they could turn greasy if it is too cold.
Preparation of Rice: For fluffier grains, rinse the rice to remove extra starch. Before cooking, the rice is sautéed to improve flavor and avoid sticking.
Rice to Liquid Ratio: Use the right volume of liquid (broth or water) to cook the rice. The typical and most effective ratio is 1:2 (1 cup rice to 2 cups liquid).
Draining and Reposing: Before placing cooked chicken tenders in a heated oven, let them cool on paper towels to absorb excess oil. As a result, they stay crispy and don't go soggy.
To make the tastiest chicken tenders with rice, remember to follow the following instructions. Enjoy your wonderful home-cooked supper!
Nutrition
Serving Size:

1

Calories:

500kcal

Fat:

20g

Carbohydrates:

55g

Fiber:

3g

Protein:

30g
Keywords: basic chicken tenders recipe, Trend recipe for chicken strips and spicy rice, recipe for chicken tenders and rice, recipe with chicken tenders and rice
People Also Ask:
What is the secret to cooking tender chicken?
The finest tenderizer, though, is a marinate of salty yogurt. While the yogurt's lactic acid further tenderizes the meat, the salt has the same effect as a conventional brine. The most delicate chicken breasts possible result from a 15-minute marinate with one cup of yogurt and one teaspoon of salt.
How do you make chicken tender and not tough?
Make the chicken breasts flat.
Season both sides of the chicken breasts.
Heat the pan.
The chicken breasts should be cooked motionless for 1 minute over medium heat.
Turn the chicken breasts over.
Lower the temperature.
Cook for 10 minutes on low heat with the lid on the pan.
Allow to sit for an additional 10 minutes after turning off the heat.
Take a temperature after removing the cover.
How do you make chicken more tender and juicy?
Preparation is essential for keeping your chicken juicy. Don't remove the skin or bones since they help the meat stay juicy while it cooks. Use a meat tenderizer to pound the raw chicken breasts until they are all the same thickness. For a juicy and tasty outcome, immerse the prepared chicken in brine or marinate for a few hours.
What is the difference between chicken tenders and chicken tenderloins?
A slender muscle loosely linked to the bottom of the breast is known as a chicken tenderloin or chicken tender. Typically, the tenderloin is cut away from the breast and sold separately. Comparatively speaking to other portions of the bird, chicken tenders are pretty, well, tender.
Can you use chicken tenders instead of chicken breast?
There is no restriction on combining, contrasting, or swapping. Just remember that you'll need to alter the baking, marinating, frying, and cooking times when substituting. A chicken tender cooks much more quickly than a huge piece of chicken breast because it is smaller.
Recommended Articles:
How To Make Iced Coffee With Creamer?
Broiled Steak Seasoning Recipe