Top 10 Traditional Ramadan Dish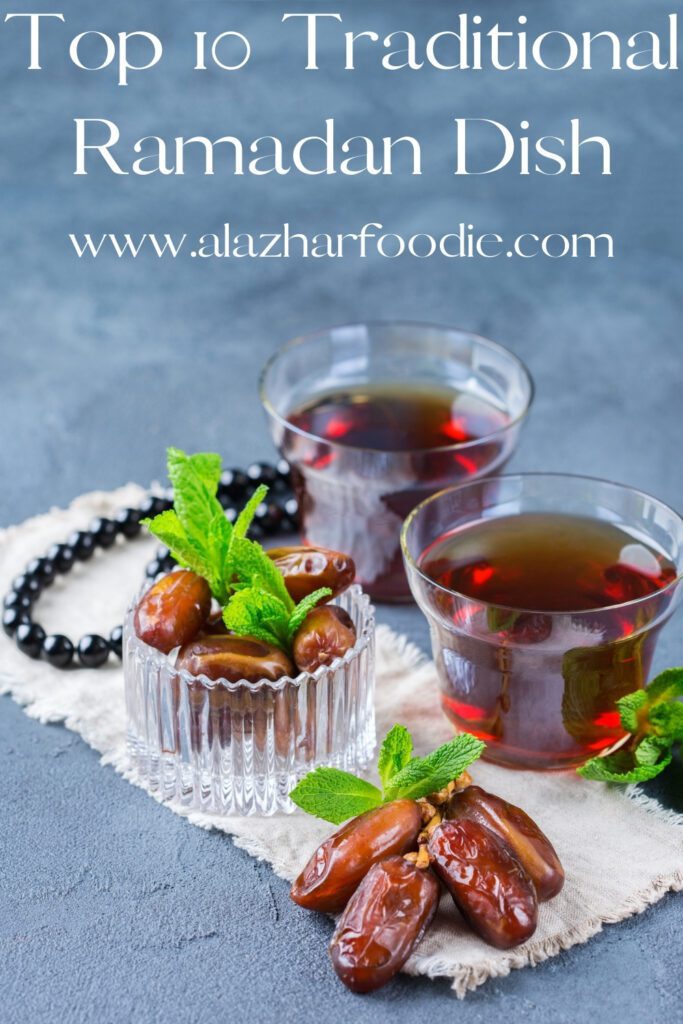 Topic: Top 10 Traditional Ramadan Dish
During the holy month of Ramadan, Muslims fast from sunrise to sunset without even consuming water. Food takes on a special meaning during this fast. Before morning prayers, Muslims eat suhoor, a hearty breakfast that is big enough to get them through the day. Hearty meat dishes are popular during Ramadan as a way to refuel before or after fasting. Skewered meat and vegetable dishes called kebabs are common in the Middle East, and curry recipes are a mainstay in Southeast Asia.
After dark, Iftar, or a short break, this meal is often a festive and community event. No iftar would be complete without rice. Dessert is an iftar staple, and in the Bengali household, mishti is king. In the Middle East, desserts often lean towards the syrupy side, and yogurt is a common way to aid digestion and cool the stomach. We've rounded up our favorite Ramadan recipes for suhoor and Iftar, as well as your big Eid-al-Fitr holidays afterward.
The first thing we need to know is Ramadan's dates and calendar to organize and plan the fast. During the month that the fast lasts, from April 15th to May 14, 2021, Muslims perform a fast body and mind.
This means that from sunrise to sunset, they cannot eat and drink water, but also during that month, they have to have personal discipline, that is, be a good Muslim, good people, have good thoughts. And help others; in this way, they will receive the rewards of doing this fast.
Once we understand what Ramadan is, we can see that it has many benefits physical, social, and spiritual, but it can also happen that they suffer from a health problem if fasting is not performed correctly.
FEEDING MUSLIMS DURING RAMADAN
Next, we are going to show you a diet or food for Ramadan according to the Sunnah, or the practices of the Prophet Muhammad. The recommended foods for this month are the following:
Carbohydrates such as pasta, rice, bread, cookies, and cereals.

Proteins like meat and beans. You may be interested in knowing the bean soup.

Dairy, milk, and its derivatives

Vegetables and fruits
Now we are going to see each of the groups that we have put for you so that you have no doubts about the diet for Ramadan.
RAMADAN DIET – BREAKFAST (IFTAR)
During the Iftar, you will notice that the body asks for energy; that is why we recommend this diet as it will provide you because they are a good source of sugar, minerals, and a balanced diet.
3 dates

Natural juice (one glass)

A cup of vegetable soup with pasta
RAMADAN DIET – MEAL BEFORE DAWN SAHUR
Before dawn or the meal of Sahur, we advise you not to eat heavy food or much; it is best to be light. For this, it is best to eat cereals, whole wheat bread, milk, fruit, and a salad with olive oil.
RAMADAN DIET – DINNER
For dinner, we recommend that you consume the food that we show you, of all the groups but without being in excess.
Meat and beans
As much fish as the meat of lamb or chicken, and you can accompany it with hummus, chickpeas, beans, lentils; With this, you will have proteins, vitamins, and minerals.
Cereals and Bread
Whole-grain breads or cooking pasta and rice because they are a source of energy because carbohydrates provide it, as well as dietary fiber and minerals.
Milk and derivatives
Both milk and its derivatives will provide you with calcium to be able to be active during the day and for the tissue and maintenance of the body to function well, in addition to the proteins they have.
Vegetables
Vegetables are rich in vitamins and beneficial for health. We recommend lettuce, carrot, broccoli, cauliflower, olive oil, and vinegar. As for cooked vegetables, you can eat beans, aubergines, squash, and spinach.
Fruit
Fruits cannot be absent; it is best that you eat them once you have finished dinner to have good digestion; they are also beneficial for health since they provide us with vitamins, especially vitamin C and are a source of dietary fiber.
TIPS FOR FASTING CORRECTLY DURING RAMADAN
As we have mentioned above, if we do not fast well we can suffer health problems, so we are going to discuss some tips to avoid them.
The food that you can eat after sunset, that is when the fast ( Iftar ) is over, do not eat too much food because it can make your stomach sick. Before dawn, about an hour and a half before, a meal ( sahur ) is served, which is usually light, and we also advise you to be so.
Balance is the key, a diet that has less food than usual but contains everything so that your health does not deteriorate during this month and you can carry out your activities normally.
RAMADAN – HEALTH PROBLEMS
Health problems that may arise during the month of Ramadan are for the following reasons:
Overeating due to hunger

Unhealthy and balanced meals that break the diet

Sleep a few hours and find yourself very tired
Top Ramadan Special Recipes 
1) Shish Kebabs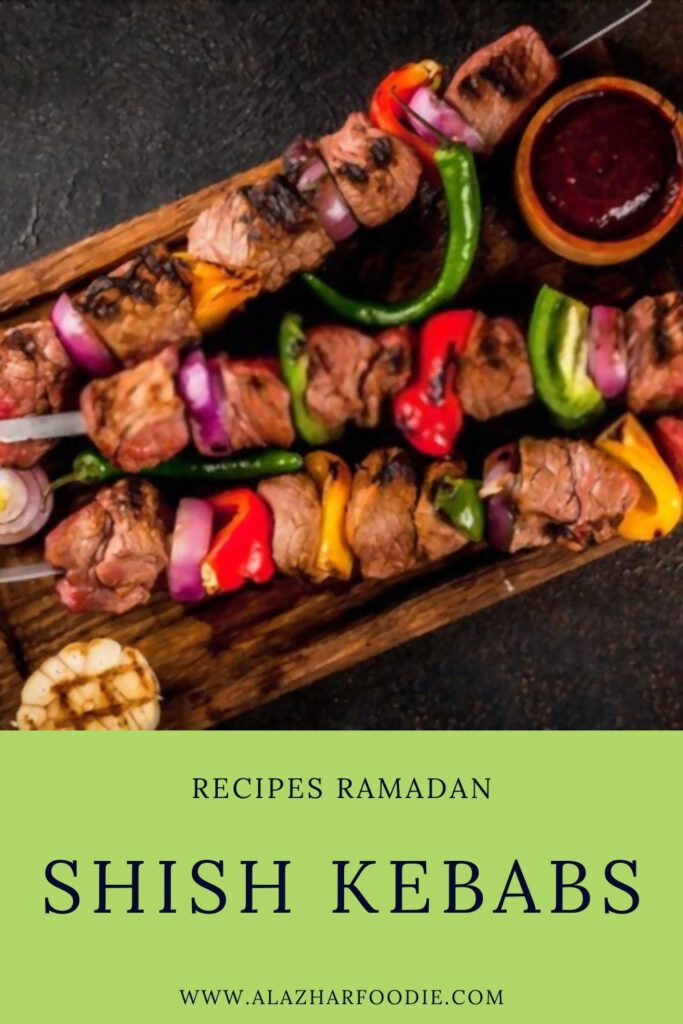 Print
Shish Kebabs
Author:
Prep Time:

15

Cook Time:

45

Total Time:

1 hour

Category:

Side Dishes
1⁄2 cup fresh lemon juice

2 tbsp. olive oil

1 tablespoon. kosher salt

1 tablespoon. ground black pepper and more

2 teaspoons of saffron powder

2 garlic cloves, minced

1 medium yellow onion, diced

2 pounds boneless, skinless chicken fillets, cut in half crosswise

8 large mushrooms

4 Italian tomatoes, cored

1 red bell pepper, cut into 1 1/2 inch pieces

1 zucchini, cut into 1-inch slices

Kosher salt

4 tablespoons unsalted butter, melted

Lavash or pita, to serve
Instructions
Start the marinade 30 minutes to an hour before cooking; If you marinate it too early, the acid in the lemon juice will cook the skewers beforehand.
Combine juice, oil, salt, pepper, saffron, garlic and onions in a bowl; add chicken and toss to coat.
Refrigerate for 30 minutes. Make medium-hot heat in a charcoal grill, heat a gas grill over medium-high heat, or heat the grill over high heat. Season the chicken and vegetables with S&P; chicken and vegetable skewer lengthwise on metal skewers.
Grill the chicken and vegetables, turning often and drizzling with butter, until the vegetables are tender and charred, about 18 to 20 minutes for the vegetables and the chicken is done and lightly charred, approximately 10 minutes. Serve with lavash.
2) Lentil Stew with Coconut (Dalma)
In the Indian state of East of Odisha, this lens of stew, fragrant to coconut and enriched with silky and sliced onions and soft potatoes with longer, is a daily staple.
Print
Lentil Stew with Coconut (Dalma)
1 cup

toor dal (yellow pigeon peas), rinsed, soaked 30 minutes, and drained

1 tsp

. ground turmeric

1

carrot, cut into

1

″ pieces

1

plum tomato, minced

1

small Japanese eggplant, peeled and cut into

1

″ pieces

1

small sweet potato, peeled and cut into

1

″ pieces

1

small Yukon Gold potato, peeled and cut into

1

″ pieces
(1) 2 1⁄2" pieces ginger, peeled and mashed into a paste
1⁄2 small daikon radish, peeled and cut into 1″ pieces
Kosher salt, to taste

1 cup

fresh or frozen grated coconut

3 tbsp

. sugar

1 tsp

. asafoetida

1

 drumstick, trimmed and cut into

2

″ pieces
1⁄4 cup ghee

1

 1⁄2 tsp. cumin seeds

1

small green Thai chile or

1/2

serrano, halved
Instructions
Bring dal and 8 cups water to a boil in a 6–qt. saucepan.
Reduce heat to medium; stir in turmeric, carrot, tomato, eggplant, potatoes, ginger, daikon, and salt; cook until dal is mushy, about 45 minutes.
Stir in coconut, sugar, asafoetida, and drumstick; cook until drumstick is tender, 20–25 minutes.
Melt ghee in an 8″ skillet over medium-high; cook cumin seeds and chile until seeds pop, 1–2 minutes; stir into stew.
Keywords: Lentil Stew with Coconut (Dalma), Ramadan Dish
3) Indian Samosas as Ramadan Dish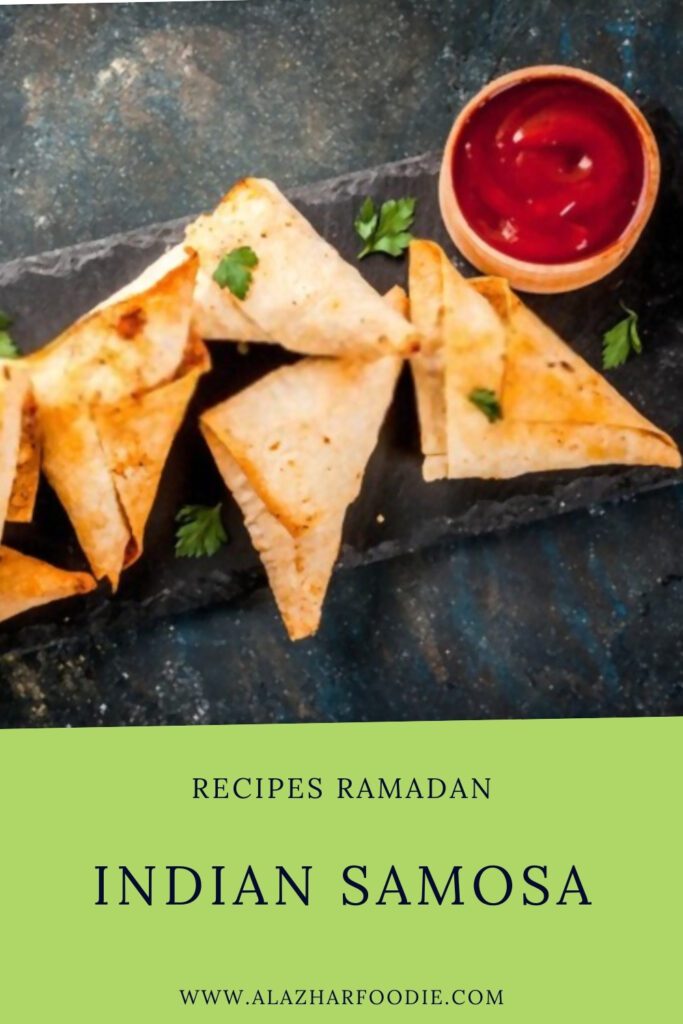 Looking for the perfect samossa recipe? do not search anymore! We only provide you the best samossa here. We have a large number of recipes to test.
If you've been struggling in the kitchen lately when it comes to getting your perfect food, you're not alone. Many people have a natural culinary talent, but not quite enough expertise to cook to perfection. This Samossa dish is a great start, very easy to prepare and also delicious.
Print
Indian Samosa as Ramadan Dish
Indian Samosa is one of the best and easy to make as ramadan dish.
To do samossa kills need 4 Ingredients and 4 steps. Here is how you achieve it.
Use

1/2

apples
Prepare

1/2

goat dung

You must prepare 2 sheets of bricks

Prepare

1

little honey Or Wheat Flour
Instructions
Cut the apple into brunoise and brown it for a few minutes in a pan with honey or Wheat Flour

Once cooked, cut the samosa leaf in half. Fold the 1/2 sheet in half and place a little apple and a piece of goat cheese.

Fold to make triangles and place on baking paper. 

Do the same with the other leaves.

Place in the oven preheated to 200 ° C for 7 minutes.
Notes
This Samosa Chaat. ✓ is bursting with flavors and texture. ✓ has layers of chickpea curry and The samosa chaat is very easy to put together. However in order to do, you have. #samossa Watch short videos about #samossa on TikTok. World Samosa Day: Prepare these puff delights at home with the best of samosa fillings we've got here. Find samossa stock images in HD and millions of other royalty-free stock photos, illustrations and vectors in the Shutterstock collection.
You don't have to be a pro to cook a great dish. There are many recipes that seem difficult and frustrating, but are actually quite simple among those of Samossa. We hope this recipe has really given you confidence for the next time you are in the cooking zone.
If you find this Samossa recipe useful, please share it with your close friends or family, thank you and good luck.
4) Spiced Ground Beef Patties (Shami Kebabs)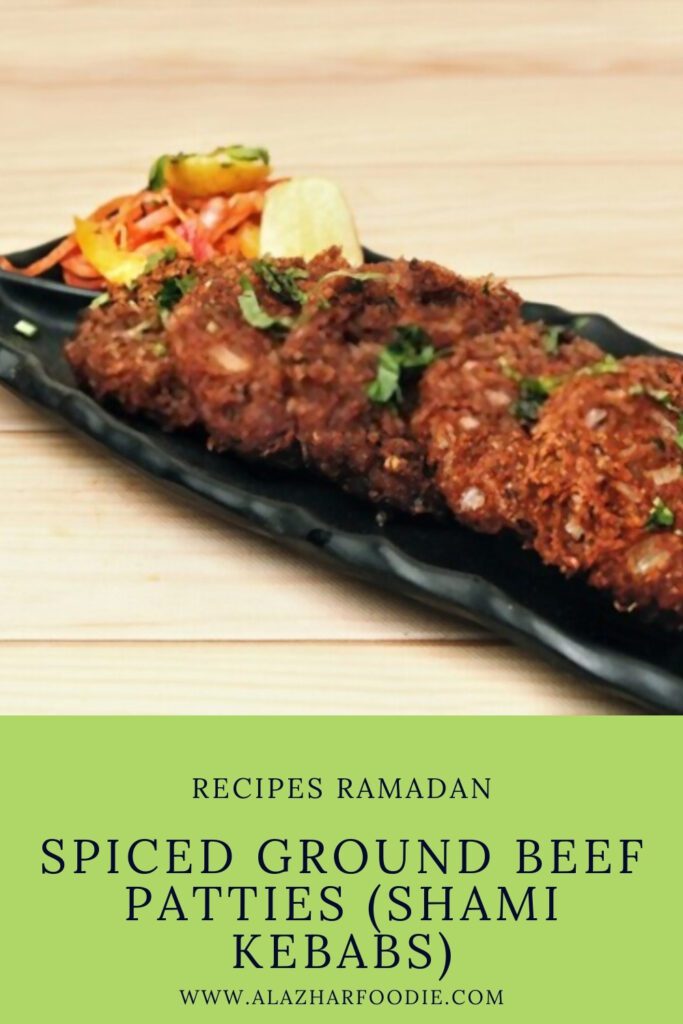 Print
Spiced Ground Beef Patties (Shami Kebabs)
Spiced Ground Beef Patties (Shami Kebabs) is one of the Ramadan Special Recipe.
2

pounds ground beef

1/2 cup

dried yellow split peas

1

onion, chopped

1 tablespoon

garlic, chopped

1 1/2 teaspoons

fresh ginger, minced

2

whole large (black) cardamom pods (see Tips, below)

3

whole small (green) cardamom pods

1

(4-inch) cinnamon stick, broken in half

2

whole cloves

6

whole dried red chiles, such as guajillos

3/4 teaspoon

salt

1

large egg

1/2 cup

fresh cilantro, chopped

2 cups

vegetable oil for frying
Instructions
Bag, combining chopped meat, peas, onions, garlic, ginger, black and green meat, cinnamon sticks, pods, chillies, salt and 1 cup of water. Take a boil, then less heat to moderate and slowly, discovered until the meat is brown and the mixture is very dry approximately 30 minutes. (Make sure that all the water has evaporated). Remove the heat and cool down.

When you have enough cold to handle, then transfer the mixture, including spices and chilli peppers, to the culinary robot.

Muela until the soft and soft texture is thinner than for hamburgers, but not to become extremely sticky. In a large bowl, using the hands, mix the meat, the egg and the cilantro by pressing firmly, form mixing about 2 inches 1/2 inch thickness width.

In a large intense skillet in moderate heat, heat oil until hot but does not smoke. Work in batches from 4 to 6, frying cakes to brown, approximately 2 to 3 minutes per side. Drain on hot towels and serve hot.
5) Roast Chicken with Onion and Sumac Flatbread
Tart sumac balances sweet caramelized onions in a roast chicken, and flatbread dish traditionally baked in a wood-fired oven called a taboon.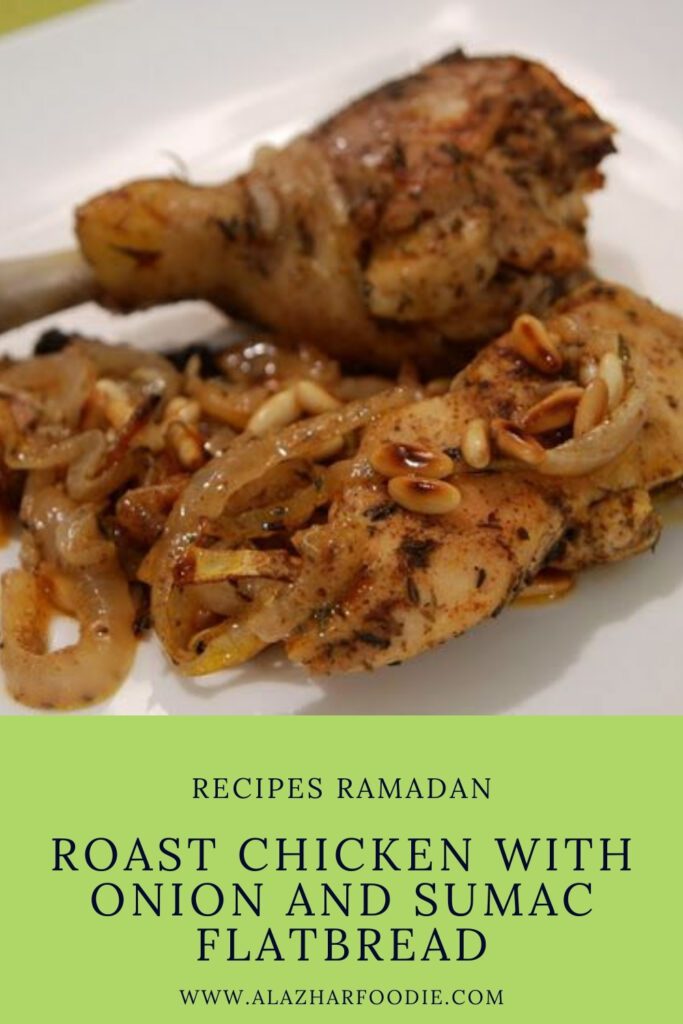 ​​
Print
Roast Chicken with Onion and Sumac Flatbread
Roast Chicken with Onion and Sumac Flatbread is a ramadan special recipe.
Author:
Prep Time:

20

Cook Time:

35

Total Time:

55 minutes

Category:

Side Dishes
1/2

chicken, chopped

1

onion cut into slices

1

clove of garlic

2 tablespoons

olive oil

1 teaspoon

of paprika

1/2 teaspoon

cinnamon

1 tablespoon

sumac

1/2

lemon confit in salt, cut into thin slices

100

ml of water

1 teaspoon

of salt
a pinch of ground black pepper

1 tablespoon

thyme

25 g

pine nuts
Instructions
In a large bowl, mix the chopped chicken, onion, garlic, olive oil, spices, candied lemon, water, salt and pepper.
Let it marinate for a few hours.
Preheat the oven to 200ºC.
Transfer the chicken to a source, drizzling it with the marinade oil, sprinkle with the thyme, and roast for 40 minutes, until the chicken is golden brown.
Meanwhile, toast the pine nuts in a pan.
Serve the chicken with the pine nuts on top, accompanied by a yogurt sauce.
6) Romano Beans with Tomatoes (Loubieh Bil Zeit)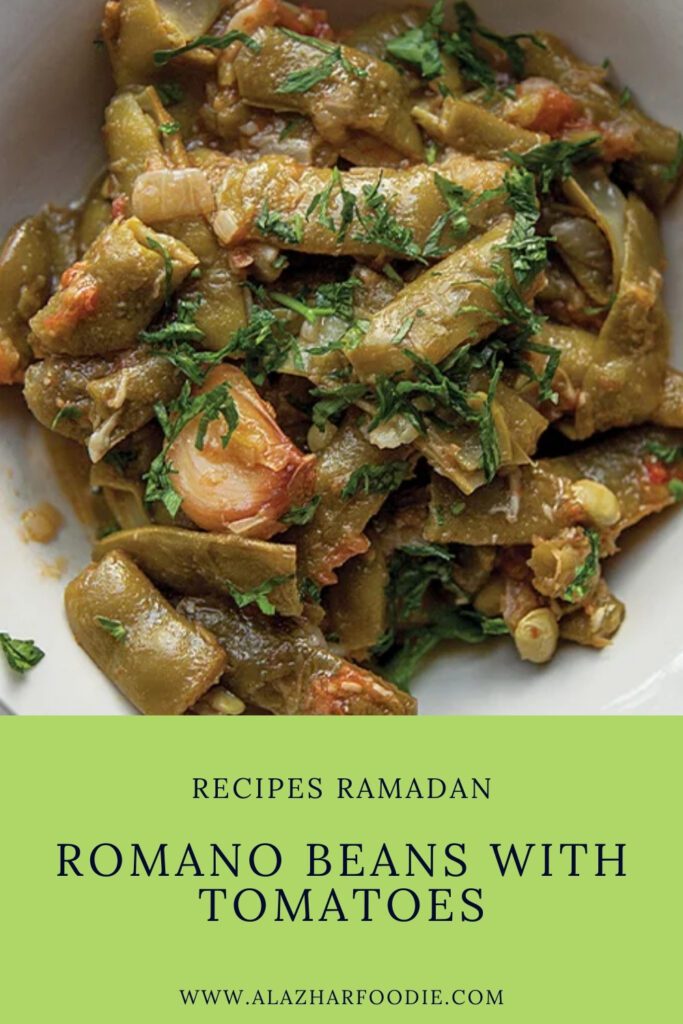 Lebanon has an ancient tradition of high-quality olive oil, used to shake the vegetables in several traditional dishes. One of the most popular is Loubieh Bil Zeit, literally "green beans in oil", a traditional Lebanese mezze in which Roman beans are stretched to the tender with tomatoes in olive oil. In general, it is served at room temperature, but it can also be warm enough as a side dish. Green beans or favour beans can be replaced by Roman beans.
Print
Romano Beans with Tomatoes (Loubieh bil Zeit)
Romano Beans with Tomatoes (Loubieh bil Zeit) : Lebanon has an old tradition of high quality olive oil production, which is used to braise vegetables in a number of traditional Ramadan dish.
1/3 cup

extra virgin olive oil

3

garlic cloves, crushed

1/2

small white onion, minced

1

C. tomato paste

1

mature tomato vine, chopped and chopped roughly

1

lb of small novel or green beans, cut and cut in two
Kosher salt and freshly ground black pepper, to taste

2 tablespoons

. Finely sliced parsley
Instructions
Heat the oil in a 4-QT. Superior pan.
Cook the garlic and onion up to the soft, 4-6 minutes. Add a tomato paste; Cook for 2 minutes. Add tomato and 1/2 cup of water; Bake until the tomato is decomposed, 6-8 minutes.
Add beans, salt, pepper and 3/4 cup of water and reduce heat to medium; Cook, covered until the beans are very tender, 20-25 minutes. Garnish with parsley.
7)
Ekmek Turkish Bread as Ramadan Dish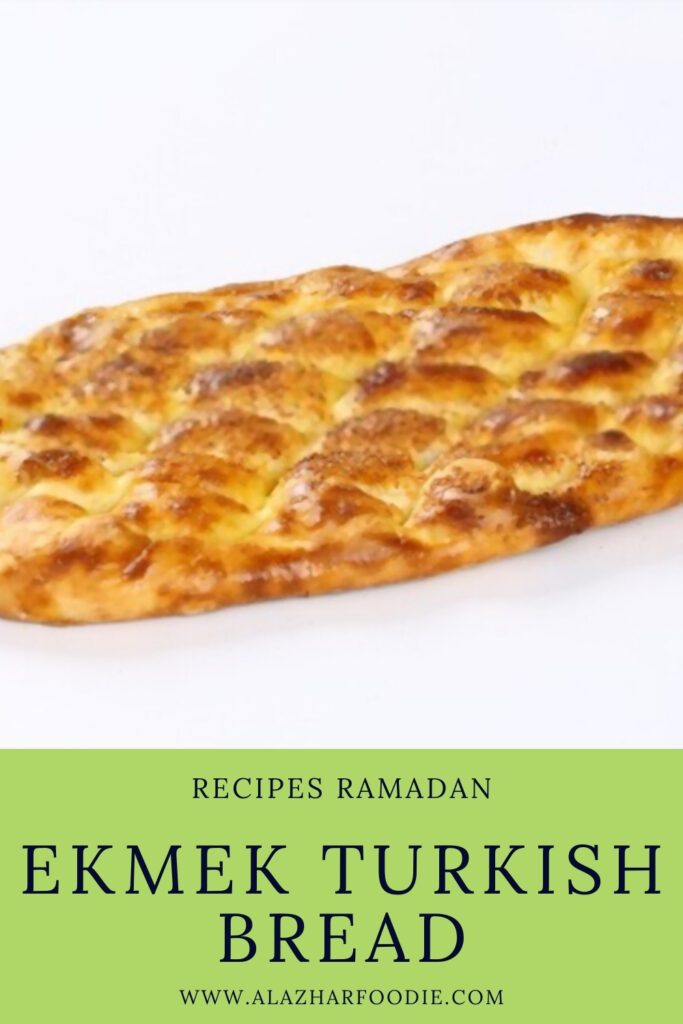 Ekmek is a lightweight and slightly sour bread that a little wonderful with Havarti cheese. He uses an incoming that ferments for 4 days. I recommend using a pizza stone to cook the loaves. If he does not have a pizza stone, the cookie leaves will also work. The recipe seems complicated, but it is much easier than it seems.
Print
Top Traditional Ramadan Dish
1 ½ cup of bread flour, divided

¾ cup of water, divided

5 teaspoons Active dry yeast

1 teaspoon of white sugar

2 cups of warm water (110 degrees f / 45 degrees c)

6 cups of bread flour

2 teaspoons of salt
Instructions
Stage 1
Make the starter: Place 1/2 cup of flour and 1/4 cup of water in a bowl that can be covered; mix well. Cover and let stand at room temperature overnight. The next day, add 1/2 cup of flour and 1/4 cup of water to the bowl. Cover and let stand at room temperature overnight. The third day, add 1/2 cup of flour and 1/4 cup of water to the bowl. Cover and let stand at room temperature overnight.
Stage 2
To make the mass: in a large bowl, dissolve yeast and sugar in hot water. Let the creamy stay, about 10 minutes.
Step 3
Break the starter on small pieces and add it to the yeast mixture. Incorporate 4 cups of flour and salt. Incorporate the remaining flour, 1/2 cup at a time, beating well after each addition. When the dough shot together, turn it on a slightly flour surface and love the gentle and elastic, about 8 minutes. Sprinkle a small flour in the dough and drive it with a dry cloth. Let it increase until the double size.
Step 4
Put the dough on a lightly hail work surface and hit the air. Divide the dough into two and love each room for 2 to 3 minutes. Form each piece in a tight oval bread. Sprinkle two leaves with food with corn. Rolling and stretching two bread until they are ovals of 15×12 inches. Powder peaks of breads with flour. Cover with a dry cloth and let stand in a warm place until double size. Meanwhile, preheat the oven at 425 degrees F (220 degrees C).
Step 5.
Bake in preheated oven for 30 to 40 minutes. Haze with water 3 times in the first 15 minutes. Breads are finished when their lower hollow rings when written. Let cool on wire grids before serving.
8)Algerian Bouzgene Berber Bread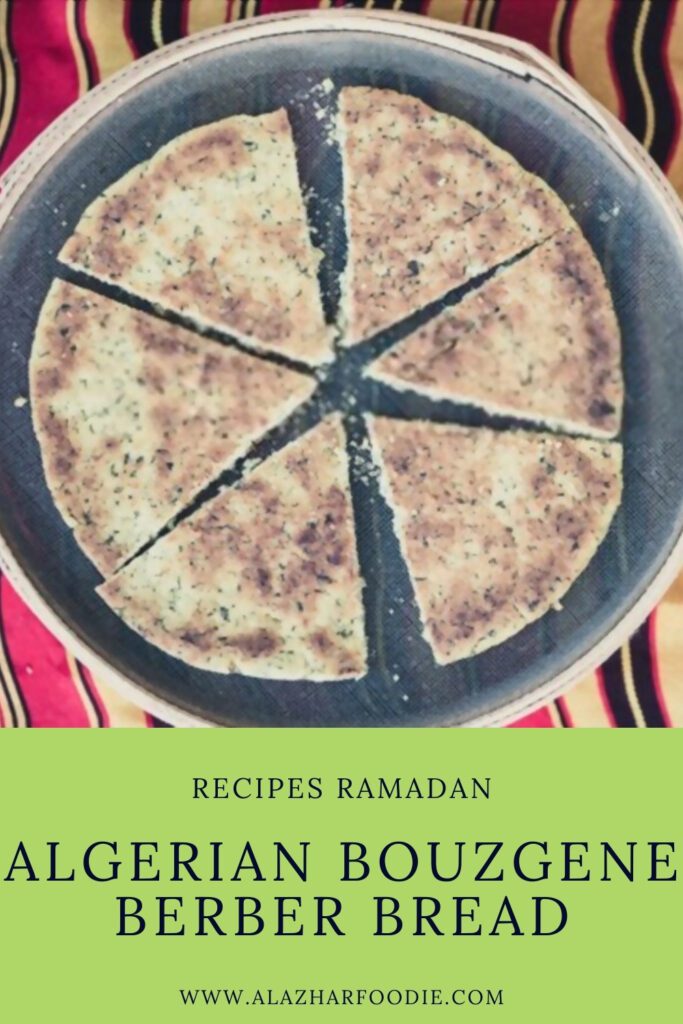 This traditional favorite comes from mountain cities in northern Algeria. A semi-high humble semi-rising flat elevator is a roasted Zesty pepper sauce. The combination is fresh, simple and satisfying. We also like to have this with fried eggs.
Print
Algerian Bouzgene Berber Bread
Instructions
Step 1.
Preheat your oven grill. Place the red bell peppers and tomatoes on a baking sheet and grill under the grill for about 8 minutes, turning occasionally. This should darken the skin and help it peel off more easily. Let cool, then scrape the skin off the tomatoes and bell peppers and place in a large bowl. Remove the hearts and seeds from the peppers.
Step 2.
Heat 1 tablespoon of olive oil in a skillet over medium heat. Add jalapeños and garlic and cook until tender, stirring frequently. Remove from heat and transfer the garlic and jalapeño pepper to the bowl with the tomatoes and red peppers. Using two sharp steak knives (one in each hand), slice the tomatoes and peppers to a thick, chewy consistency. Stir and reserve the sauce.
Step 3.
Place the semolina in a large bowl and add the salt and 4 tablespoons of the olive oil. Add water gradually while mixing and hand squeeze until the dough holds together without being sticky or dry, and is easily shaped by hand. Divide into 6 pieces and form balls.
Step 4.
For each shift, heat 1 tablespoon of olive oil in a large, heavy skillet over medium heat. Roll out the dough one turn at a time, to a maximum thickness of 1/4-inch. Fry in the hot pan until dark brown spots appear on the surface and are crisp. Remove from skillet and wrap in a clean towel while you prepare the remaining flatbreads.
Step 5.
To eat the bread and sauce, cut the pieces of bread and pour them into the sauce. It will slide, but keep reaching!
9)Egyptian Feta Cheese Omelet Roll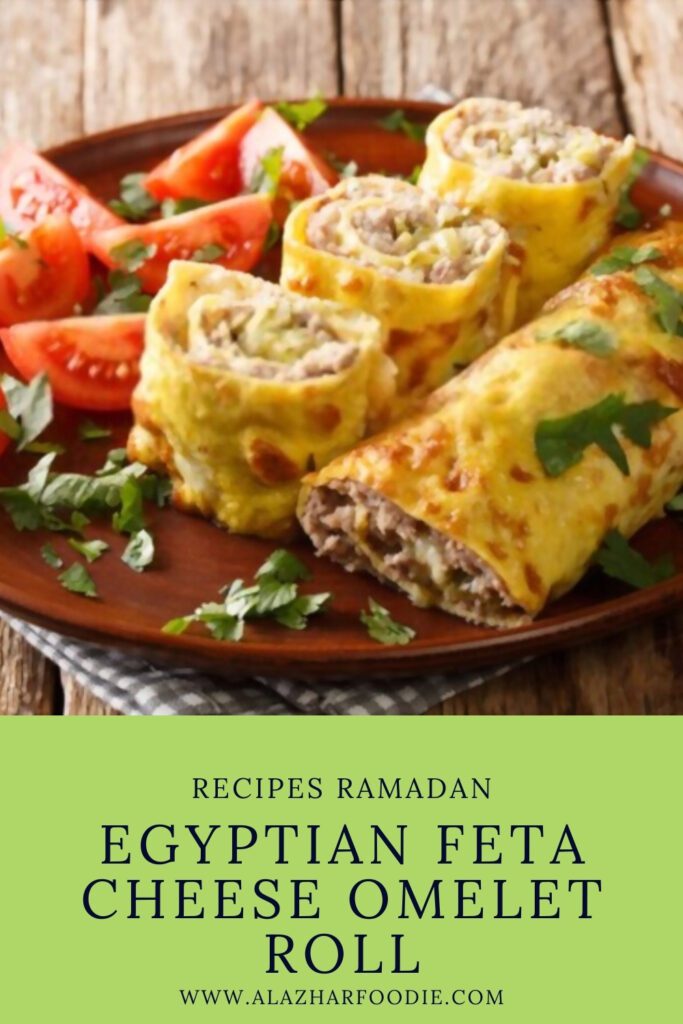 This tortilla is juicy with this cheese – everyone who tried it loved it and didn't expect it to be that good. Make sure the pan is well oiled, otherwise the sides will stick together and you won't be able to roll it up.
Print
Egyptian Feta Cheese Omelet Roll
4

eggs, beaten

½ teaspoon

black pepper

3 tablespoons

crumbled feta cheese

1 teaspoon

milk

1 tablespoon

vegetable oil
Instructions
Step 1.
In a small bowl, beat the eggs and pepper together. In another small bowl, combine the crumbled cheese with the milk.
Step 2.
Heat oil in a large nonstick skillet over medium-high heat. Pour in the eggs and tilt the pan until the bottom is evenly covered. When the edges appear cooked, place the feta mixture in a line in the center of the eggs. Using a spatula, fold the eggs over the top and bottom of the cheese, then fold the sides.
 10) Moroccan Lentil Salad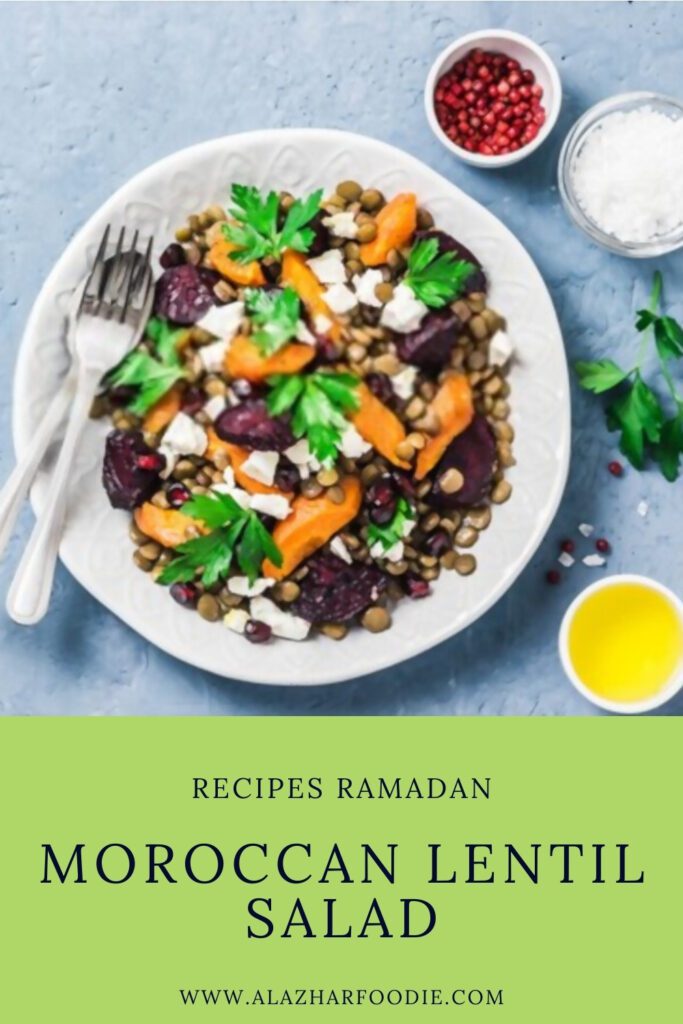 Print
Moroccan Lentil Salad
½ cup

dry lentils

1

 ½ cups water

½

(15 ounce) can garbanzo beans, drained

2

tomatoes, chopped

4

green onions, chopped

2

minced hot green chile peppers

1

green bell pepper, chopped

½

yellow bell pepper, chopped

1

red bell pepper, chopped

1

lime, juiced

2 tablespoons

olive oil

¼ cup

chopped fresh cilantro
salt to taste
Instructions
Step 1.
Put the lentils and water in a saucepan. Bring water to a boil, simmer. Bake 30 minutes or until tender.
Step 2.
In a medium-sized mixing bowl, combine the lentils, chickpeas, tomatoes, green onions, green peppers, peppers, lime juice, olive oil, cilantro and salt to taste . Mix well. Refrigerate for 20 minutes. Serve as fresh.
If you find this Top 10 Traditional Ramadan Dish useful, please share it with your close friends or family, thank you and good luck.