Healthy Chicken Salad Recipe No Mayo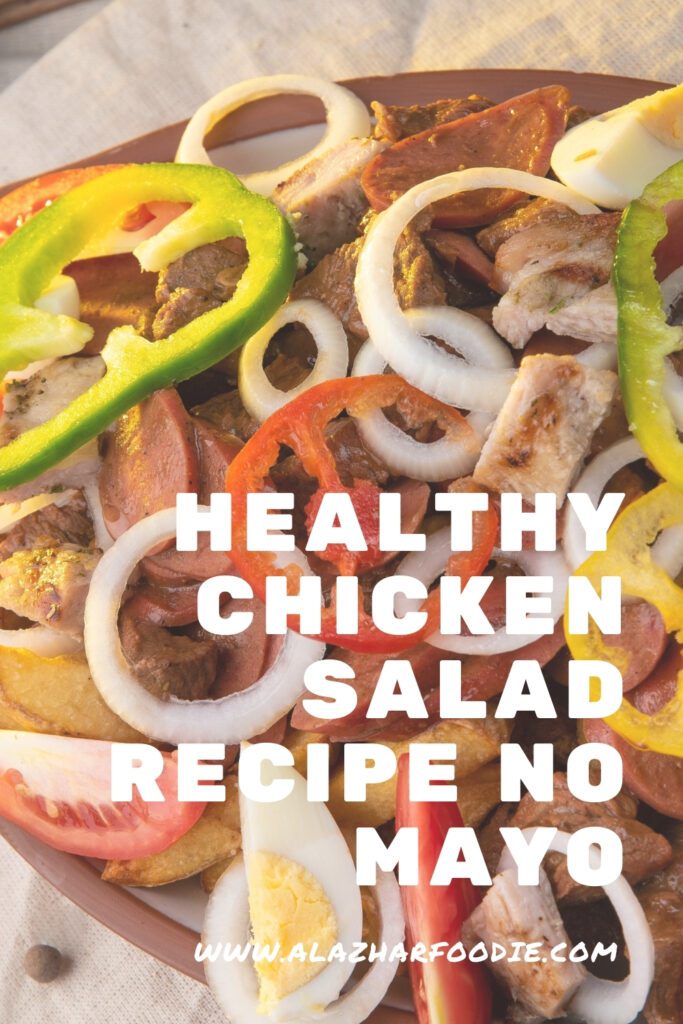 Topic: Healthy Chicken Salad Recipe No Mayo
This healthy chicken salad recipe no mayo and perfect for those on a diet; it is a delicious and nutritious dish that is also easy to prepare.
And as if that weren't enough, it's a dish that uses yesterday's leftovers: in this case, chicken.
You can take advantage of the cooked or grilled chicken that you had leftover from the day before to re-season it and make it the star of this delicious salad.
Chicken salad is a must in your selection of cooking recipes if you meet some of these two requirements:
You maintain a healthy and balanced diet.
You are looking for new ideas of dishes to prepare with the onset of heat.
If you agree to both conditions, then it is impossible. This Healthy Chicken Salad Recipe is for you.
Healthy Chicken Salad Recipe No Mayo
Now, I'll walk you through the basic recipe, and then we'll move on to some fun variations to help you get inspired and more creative, or at least vary this recipe when it becomes a regular part of your diet.
Print
Healthy Chicken Salad Recipe No Mayo
Learn how to make a delicious Healthy Chicken Salad Recipe No Mayo.
Easy to do at home.
Author:
Prep Time:

15

Total Time:

15 minutes

Category:

Side Dishes

Cuisine:

America
1

 

thick fillet of chicken breast cooked 

preferably on the grill or grill.

200

 

grams 

of fresh lettuce.

12

 

cherry tomatoes, cut in half.

1/2

 

red 

or yellow 

bell pepper 

, or both

½

 

cup 

of sliced ​​black olives.

Olive oil.

Balsamic or wine vinegar.
Instructions
Step-by-step guide
The first thing to do is make sure that you are using very clean lettuce. We separate the leaves and wash them well. In addition to passing each leaf under the water stream, I also prefer to immerse them in a container, where I have previously diluted a stream of vinegar in the water. You leave them there for a few minutes.

Depending on your mood for the day of making this chicken salad, you can do two things: cut the lettuce leaves into strips or leave them whole. I prefer to do the latter, but it is true that when this recipe becomes common in the kitchen (which will happen in your case, I am sure), it is fun to change these types of details with each preparation.

Place the lettuce leaves in a salad bowl.

Add the sliced ​​black olives, the pepper in strips, and the cherry tomato in halves.

Now is the time to cut the chicken breast into strips crosswise. This ingredient's advantage is that you can play with the temperature: it can be used hot if the chicken has just been cooked or cold if it has been prepared in advance. You can also season the chicken to taste. Then we will reserve the rooms for a few minutes.

We begin to mix the rest of the salad again. Season to taste, add a good pinch of olive oil and another pinch of balsamic vinegar.

Now is the time to mix everything well with two tablespoons of salad popsicles.

The next thing you should do is decorate with the chicken pieces.

To finish the vinaigrette, add the last thread of olive oil over the chicken.
Nutrition
Serving Size:

2

Calories:

48kcal
Keywords: Healthy Chicken Salad Recipe No Mayo
Tips for the perfect Healthy Chicken Salad Recipe Without Mayo
If you eat lettuce frequently, you can vary the types you use to make this recipe and even combine them. If you are curious about the subject, I leave you this link with a list of the different types of lettuce that you can use to prepare salads. Another option is to use arugula or spinach leaves. When I do, I always prefer to mix them with some sort of lettuce.

For me, the simplicity of this recipe is the key to its success, but if you want to step out of the box and dress up with something more complex than oil and vinegar, you can choose from the options in this list of salad dressings. I especially like the way this recipe works with yogurt dressing.
You can also add avocado or cucumber slices or add cubes of feta or blue cheese for this basic recipe. Either of these options is good to die for.
Recommended Recipes:
Yogurt Buttercream Frosting Recipe
Chicken Cobb Salad With Avocado