Fried Modak Recipe
Topic: Fried Modak Recipe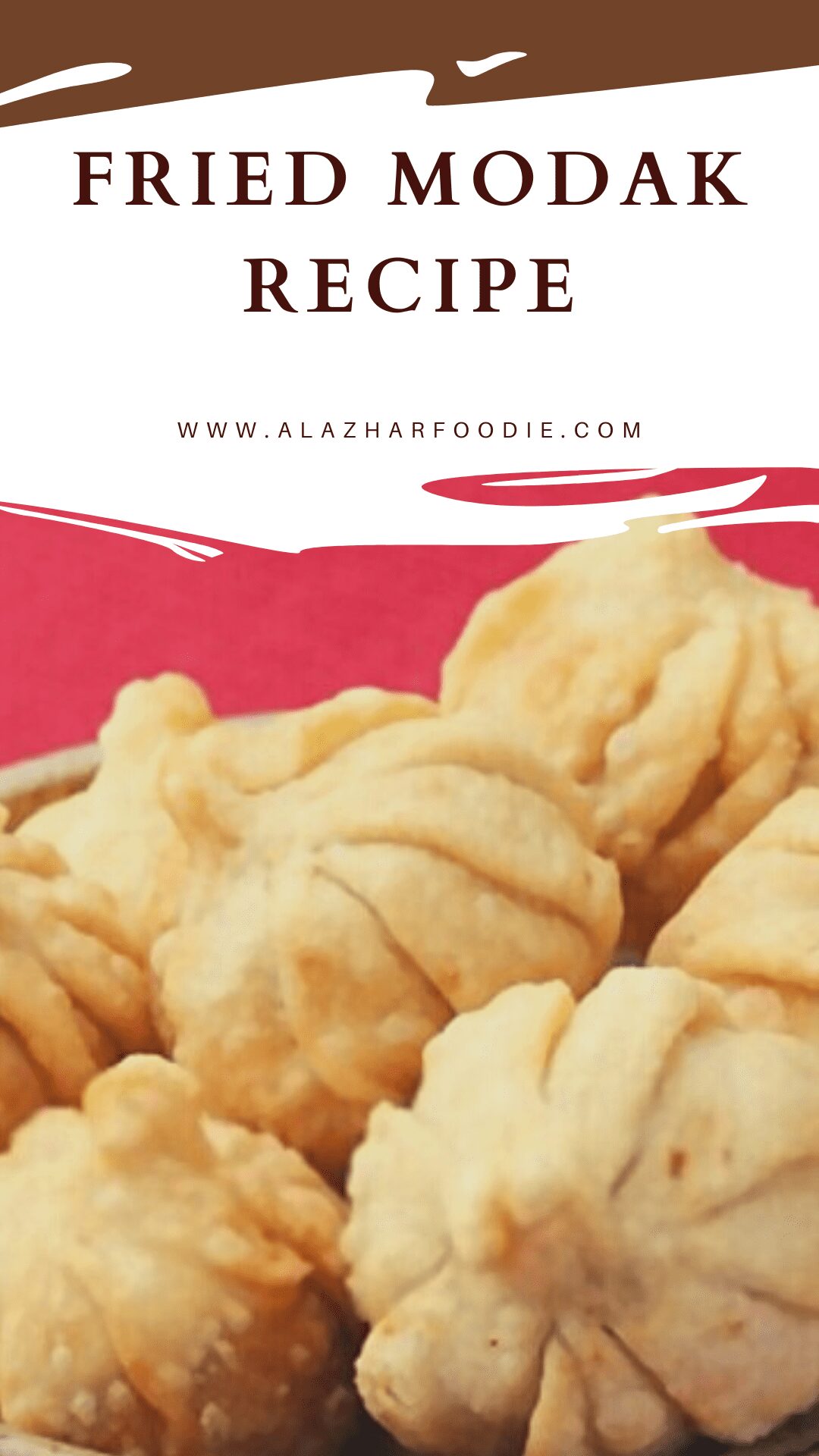 Fried Modak Recipe
This crispy, delectable Fried Modak is a simple dessert to prepare for the Ganesh Chaturthi Festival. Modak is a sweet dumpling traditionally served at the Vinayaka Chaturthi festival. As the name implies, fried modak is a variant of the popular steamed modak.
It has a crispy wheat flour crust on the outside and a sweet stuffing of coconut, jaggery, sesame seeds, and cardamom on the inside. The fried version of modak is significantly more accessible to prepare than the steamed one.
Concerning Fried Modak
Modak is a dumpling-like delicacy that is a favourite of Bhagwan Ganesha. While the most popular dessert during the event is steamed modak prepared with rice flour (also known as ukadiche modak), there are numerous more varieties. I make steamed modak or Pathol (Stuffed Rice Sweet) every year during the holiday, the simple sweet Suji Halwa, or any laddu like Rava Ladoo or Besan Ladoo.
Even though fried modak is significantly more straightforward to prepare, I prefer the classic steamed modak. Fried modak is also known as talniche modak in Marathi. The outer coating of the fried modak dumpling is made of whole wheat flour or all-purpose flour (maida). My recipe uses whole wheat flour, making it a little denser than fried modak made with all-purpose flour, which has a softer texture.
I've also substituted desiccated coconut for fresh coconut. If you're using desiccated coconut, follow the recipe exactly as written. If you're using fresh coconut, leave the water in the filling. Instead of longer or thicker shreds, use finely shredded desiccated coconut.
This recipe for the outer cover comes from my mother's Karanji recipe. However, instead of all-purpose flour, I used whole wheat flour.
Fried Modak Recipe
Print
Fried Modak Recipe
Fried modak is a delicious and famous modak variation served to Bhagwan Ganesha during the Ganesh Chaturthi festival. This recipe calls for a whole wheat flour crust with sweet stuffing.
Author:
Prep Time:

20

Cook Time:

20

Total Time:

40 minutes

Category:

Snacks

Method:

Fry

Cuisine:

Indian

Diet:

Vegetarian
For the Crust on the Outside
2 cups

(

240

grammes) whole wheat flour (atta)
a half teaspoon of salt, or as needed

2 tbsp

. oil, warmed or slightly heated
To knead the dough, add water as needed.
To make the sweet stuffing, combine all ingredients in a large mixing.

1.5 cup

jaggery powder (or jaggery crushed)

1.5 cup

desiccated coconut (unsweetened) or freshly grated coconut

1

–

2

teaspoons sesame seeds, white

1

to

1.5

teaspoon powdered cardamom
Optional: 1 to 2 pinches grated or ground nutmeg

1 cup

of water (do not add if using fresh coconut)
Additional Ingredients
For frying, use as much oil as you need.
Instructions
Getting the Dough Ready
Make a smooth, stiff, and rigid dough using the ingredients listed under "for the outer crust." The dough should not be as soft as roti or bread dough.
Cover the dough and set it aside for 20 to 30 minutes.
Making Fried Modak Stuffing
To make the stuffing, combine all the ingredients specified under "for the sweet stuffing."
Cook, constantly stirring, over low to medium heat until the mixture is soft, cooked, and moist. The filling mixture should not contain any water.
If you're using fresh coconut, don't add any water.
Allow the filling ingredients to cool before using.
Putting It All Together And Shaping It
Take a tiny piece of dough and roll it into a tidy ball in your palms.
Dust lightly with flour and roll into a 3 to 4.5-inch-diameter thin or medium-thin circle.
Take this rolled dough circle in your palm or gently set it on the rolling board.
In the centre, place 2 to 3 tablespoons of the sweet filling.
Using a brush, wet the edges.
One by one, join and squeeze the edges.
Please bring all pinched folds together in the centre and firmly connect them.
Keep in mind that the modak must be firmly sealed. Any minor opening will allow the filling to escape into the oil during frying.
In a Kadai or pan, heat the oil until medium hot. When the oil is hot, add the prepared wheat modak slowly and gently.
When they've turned a light golden colour, turn them over carefully with a slotted spoon and cook for another minute.
In this manner, fry them until the crust becomes brown and crisp, rotating a few times as needed.
Depending on your preference, you can shallow or deep-fried them.
When the fried wheat modak is done, remove it with a slotted spoon and drain as much oil as possible from the pan or Kadai. Then, to absorb any excess oil put them on kitchen paper towels.
In this manner, batch-fry the remaining wheat modak.
During the puja, make an offering to Bhagwan Ganesha. They're also suitable as a sweet snack.
Notes
You can use all-purpose flour (maida) instead of whole wheat flour or a combination.
Make sure the dumplings are well sealed. Any little gap will result in the filling draining into the oil during the frying process.
Brush the dumplings with oil or ghee if you wish to bake them—Preheat the oven to 180 degrees Celsius. Bake until the crust is golden brown and crunchy.
This recipe yields around 12 medium-sized modaks. However, you can cut the amount in half to make 6 fried modak or double it to make 24 wheat modak by halving the recipe.
Nutrition
Serving Size:

1 modak

Calories:

275 kcal

Sugar:

26g

Sodium:

102mg

Fat:

11g

Saturated Fat:

7g

Carbohydrates:

43g

Fiber:

4g

Protein:

4g
Keywords: fried modak recipe, fried modak recipe in marathi, fried modak recipe with maida, fried modak recipe with wheat flour, fried modak recipe without coconut
People Also Ask:
What is modak flour made of?
Freshly grated coconut and jaggery make up the delicious filling inside a modak, while the soft exterior shell is constructed of rice flour or wheat flour mixed with khava or maida flour.
Is modak and momos same?
When it is revealed that the modaks are momos, Gopika (Giaa Manek) and others from the Modi family are preparing to offer modaks to Lord Ganesha and pray for their family's well-being.
Recommended Articles:
Weight Watcher Ground Beef Recipe
Ranch Dressing Recipe With Greek Yogurt