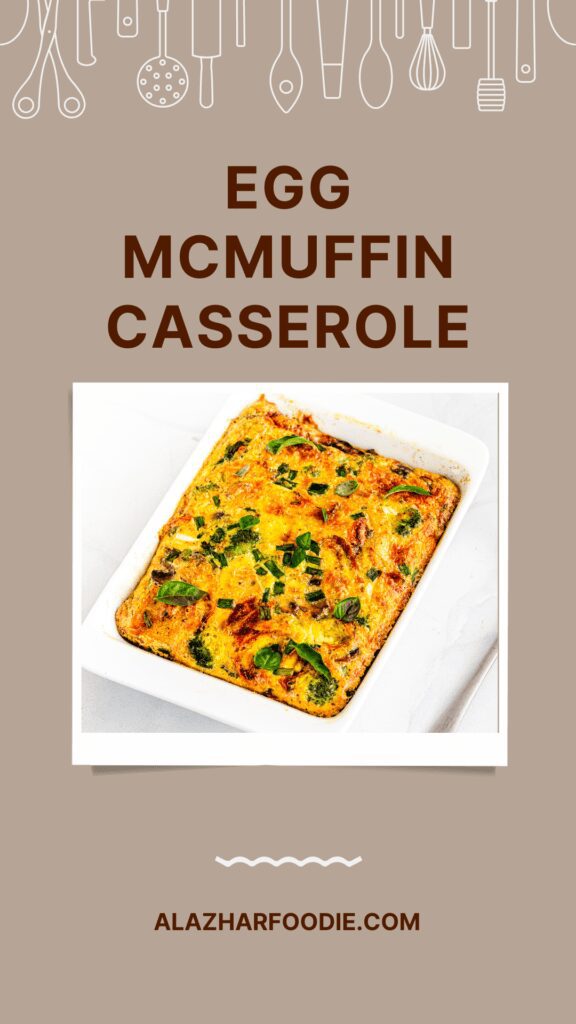 Egg McMuffin Casserole
Topic: Egg McMuffin Casserole
Table of Contents
Egg McMuffin Casserole
Introduction:
The Egg McMuffin casserole is a lovely breakfast variation that brings the well-known flavours of the traditional fast-food sandwich to your table. Imagine a delicious breakfast delight baked with fluffy eggs, salty bacon, and melting cheese on top of toasted English muffins.
This recipe allows you to add your flair. Choose between standard or Canadian bacon for a savoury kick, and show off your culinary skills by including sautéed vegetables like bell peppers or spinach. If you're organized, assemble it the night before and bake it for a simple breakfast.
As the casserole bakes and releases an appealing aroma, the magic happens. The outcome? A warm, cosy masterpiece to slice and enjoy. The Egg McMuffin casserole guarantees a delightful start to your day that is anything but average, whether you're sharing it with loved ones or taking a minute to yourself.
Egg McMuffin Casserole Recipe
Print
Egg McMuffin Casserole
Here is a easy recipe that you can use to make an Egg McMuffin casserole:
Author:
Prep Time:

15

Cook Time:

45

Total Time:

1 hour

Yield:

8

1

x
Category:

Breakfast

Method:

Bake

Cuisine:

American
6

English muffins, split, then sliced

6

cooked and cut slices of bacon, either Canadian or normal.

1 cup

of cheddar cheese, shredded

6

giant eggs

1 cup

of milk

1/2 teaspoon

salt
Black pepper, 1/4 teaspoon

1/4 teaspoon

garlic powder

1/8 teaspoon

onion powder

2 tablespoons

of freshly chopped chives, optional
Instructions
1. Grease a 9×13-inch baking dish and preheat your oven to 350°F (175°C).
2. Spread the English muffins cut into cubes evenly on the bottom of the baking dish.
3. Spread the diced bacon over the English muffins uniformly.
4. Top the bacon with half of the cheddar cheese shreds.
5. Combine the eggs, milk, salt, black pepper, garlic powder, and onion powder in a mixing dish by whisking everything together thoroughly.
6. Pour egg mixture over English muffins, bacon, and cheese into the baking dish.
7. Use a spatula to gently push down on the ingredients to ensure they are all covered in the egg mixture.
8. Top with the rest of the cheddar cheese shavings.
9. Top the cheese with the chopped chives if you're using them.
10. Place aluminium foil over the baking dish and bake in the oven for 25 to 30 minutes.
11. Take off the foil and bake the casserole for 10 to 15 minutes, or until it is done and the top is browned.
12. After cooking, remove the casserole from the oven and let it cool slightly before cutting and serving.
Enjoy your Egg McMuffin casserole as a tasty and filling option for breakfast or brunch!
You are free to alter this recipe by including additional items you want, like sautéed veggies or different kinds of cheese.
Notes
Bread Variation:
Choose whole wheat English muffins or croissants for a taste and texture change.
Meat Options:
Try cooked sausage, ham, or turkey bacon instead of Canadian bacon for a distinctive variation.
Mix-ins:
Add sautéed veggies to the casserole, such as spinach, bell peppers, or onions, for more taste and nutrition.
Prepare Overnight:
Prepare and refrigerate the casserole the night before. It can be baked in the morning for a quick breakfast.
Cheese Choice:
Try experimenting with various kinds of cheese, such as Swiss, Pepper Jack, or Feta, to customize the flavour to your liking.
A Mixture of Eggs:
Make sure the egg mixture evenly coats all of the ingredients. To prevent air pockets, gently press.
Baking Period:
Since cooking durations vary, keep an eye on the casserole in the final few minutes to prevent overcooking.
Resting Time:
After baking, let the casserole cool for a few minutes to set before slicing.
Serving recommendations:
To enhance flavours, serve with salsa, spicy sauce, or a dollop of sour cream.
Storage:
Keep any leftovers chilled right away. Slices can be quickly reheated in the oven or microwave for later breakfast.
Try new ingredients and follow these instructions to make a delicious Egg McMuffin casserole that suits your tastes.
Nutrition
Serving Size:

1

Calories:

320kcal

Sugar:

2g

Sodium:

640mg

Fat:

18g

Saturated Fat:

8g

Carbohydrates:

22g

Fiber:

1g

Protein:

18g

Cholesterol:

210mg
Keywords: egg casserole for breakfast, egg mcmuffin breakfast casserole, sausage egg mcmuffin casserole, egg mcmuffin breakfast casserole
People Also Ask:
Why is my breakfast casserole soggy?
If you defrost your hashbrowns or use less liquid, your hashbrown casserole may turn out soggy. The hashbrowns should be totally thawed and not frozen when added to the casserole.
What kind of cheese does McDonald's use on Egg McMuffin?
McD's Egg McMuffin is made with a freshly cracked Grade A egg, toasted English Muffin, real butter, Canadian bacon, and American cheese.
Can you order an Egg McMuffin without the muffin?
Low-carb dieters can also enjoy the Egg McMuffin, which has only 3 grams of carbohydrates, without the muffin and butter.
Why is Egg McMuffin more expensive?
Because they offer eggs on the buffet, Egg McMuffins and the sausage Egg McMuffins are more pricey. The most expensive ingredients to purchase for the restaurant are eggs. The Egg McMuffin also includes Canadian bacon, the priciest meat in the store by the slice.
How do you make an Egg McMuffin without an egg ring?
Use the lid of a mason jar if you don't want to purchase an egg ring, but make sure to butter or oil it very carefully so the egg doesn't stick. Another option is to use a round cookie or biscuit cutter.
Can you get an Egg McMuffin on a biscuit?
You may get an Egg McMuffin at McDonald's on a biscuit. The McDonald's Sausage and Egg Biscuit sandwich includes a sizzling hot pork sausage patty, a traditional fried egg, and a warm, flaky biscuit.
Recommended Articles:
Fruit Salad Recipe With Cream Cheese
Sausage Casserole With Cabbage
How To Cook Ground Beef Tacos?
How To Make Iced Coffee With Creamer?