Hot Crab Spinach Artichoke Dip Recipe
Topic: Hot Crab Spinach Artichoke Dip Recipe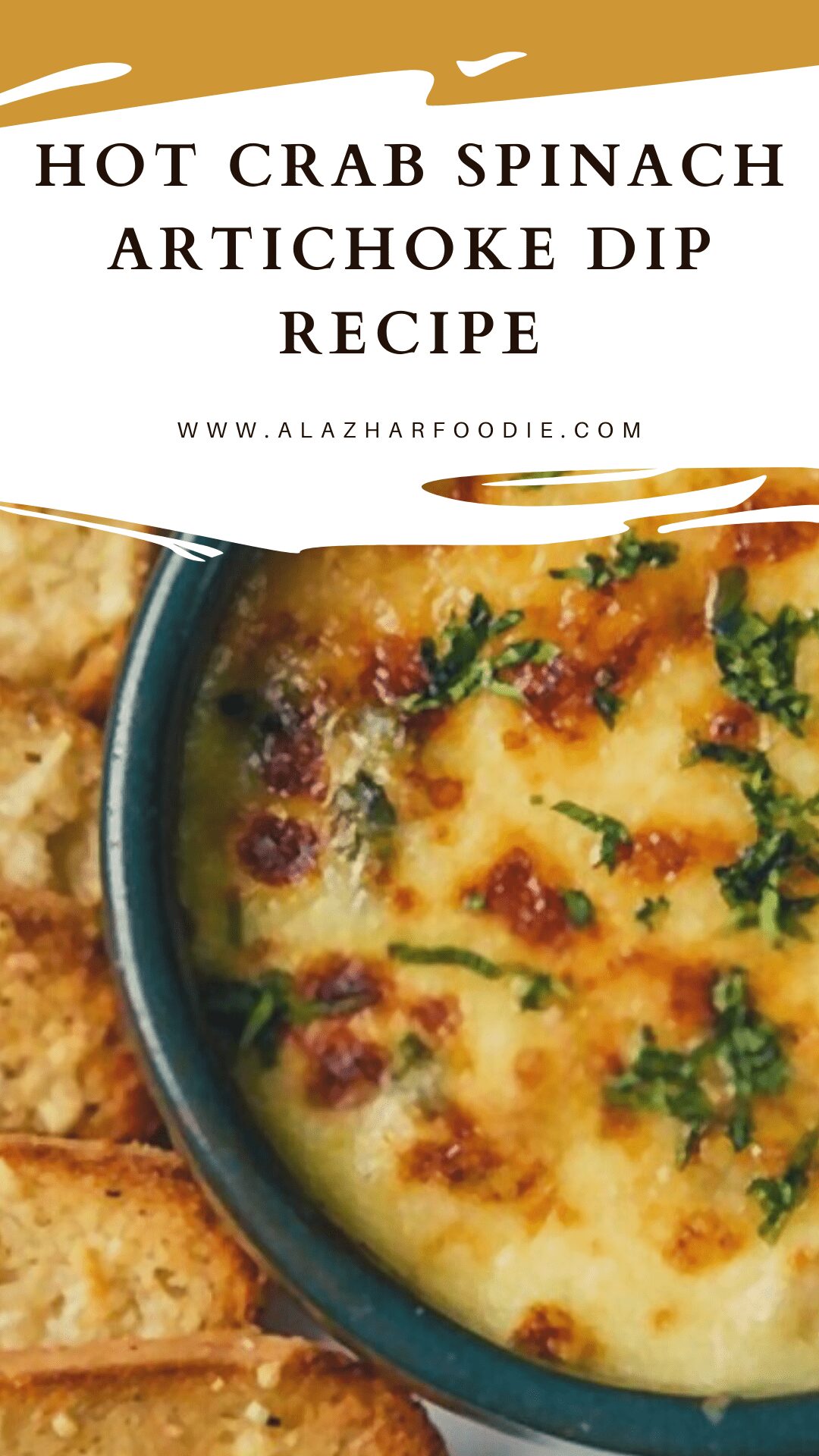 Hot Crab Spinach Artichoke Dip Recipe
This hot baked spinach, artichoke, and crab dip are the most excellent crowd-pleasing party dip – it's easy to make ahead, wonderfully cheesy, and packed with flavour. It's easy to make in the oven or the crockpot! This baked spinach, artichoke, and crab dip answer a lot of life's big questions.
What do you do when you want to make a spinach-artichoke dip and crab dip but can't decide which to prepare? Prepare this dip!
What do you make for your in-laws for Christmas movie night when you want something hot that you can make fast, ahead of time, and then hang out with everyone in the living room while it's cooking?
What do you bring to a Lent celebration on a Friday?
What do you photograph right out of the oven before a party, thinking you'll photograph a half-empty casserole dish later when you get home to show more of the inside texture but end up with this instead?
Seriously. This trough. SO MANY QUESTIONS ARE ANSWERED.
It's spicy, cheesy, and loaded with Stuff.
I'm not sure about you, but I always look for more artichokes and spinach when I eat spinach-artichoke dip. You'd think that a spinach artichoke dip would be easy to make, yet there seems to be too much filler and not enough Stuff. (Okay, I realise the "filler" is cheese, and cheese is fantastic, but there's plenty of cheese in this dip.)
Problem solved: this recipe calls for twice as many artichokes as most others I've seen. They came in two cans. Here's another hint concerning them. I've bought a lot of artichoke hearts in cans and been disappointed by how many stiff, woody outer leaves there are on what should be a tender vegetable centre. It appears that getting rid of the "bad leaves" without losing half the can volume is impossible.
I asked my stepmom if she had a favourite brand of artichoke hearts because she uses them frequently, and I've never felt like I'm chewing cud when she puts them in salads and other recipes, and she responded Progresso without hesitation. So I found some (they only had them at Publix, not Harris Teeter, where I typically buy, for anyone who shops at the same grocery stores as me), and they are far better than the others I've tried. If you can locate the Progresso brand, it's worth driving to another grocery shop.
For this recipe, I also used fresh baby spinach. Many people use frozen spinach for something like this but do so at your own risk. I used frozen spinach to make handmade spinach fettuccini noodles, which seemed fine, but when I tried to utilise what was left of the frozen spinach in another meal, it was TERRIBLE! I also adore spinach! Blech!!! I don't think I've ever despised a frozen vegetable as much as I despised that frozen spinach.
I just purchased a couple of 5 oz bags of baby spinach, tossed it in a big bowl with a splash of water, and microwaved it for a couple of minutes. Then you squeeze out as much water as possible with paper towels to prevent your dip from becoming watery and slice it into smaller pieces. It tastes so fresh and spinachy, unlike the other half of my frozen spinach box, which tasted like dirt. I'm serious; I don't think I'll ever rebuy frozen spinach. One time was enough. The next time I make homemade spinach pasta, I'll steam, dry, and chop. I'm sure it'll taste a lot more spinachy than it looks.
However, while I strongly recommend the high-quality artichoke hearts and fresh spinach, you DO NOT need to buy the most expensive crab flesh for this. There will be no $12 lump crab. The claw meat (or whatever cheapest 8-ounce container of fresh, real crab you can find) is perfect for this, and while the bits are much smaller than the lump crab, the clawed flesh is tastier. As a result, it's less expensive AND results in a more tasty crab dip. Win-win!
I used two small cloves from my turbocharged mutant (i.e., extraordinarily potent) head of garlic, along with tonnes of Old Bay to complement the crab, some black pepper, and a bit of cayenne pepper since it wouldn't be right without a bit of kick. With a cream cheese foundation and grated parmesan in both the dip and on top, the spinach artichoke crab dip is incredibly cheesy while having a high stuff-to-filler ratio. And being incredibly cheesy is crucial.
I baked it uncovered for about 20 minutes, or until the sides started to brown, and then broiled it for a couple of minutes to get that wonderful golden brown on the cheese on top. That hue is stunning! Then we went to our friend's house, where the dip was still hot enough when we arrived. The only drawback to this dip is that no one at the party left any for me! I was heartbroken. But don't be too disappointed because it gave me the confidence that I needed to share my dish with you all.
I brought pita chips to go with it, and I believe lightly toasted bread slices would be delicious. Try some zucchini or mushroom slices to go a little healthier or grain-free! Raw zucchini slices, in my opinion, are the ideal healthy dip scooper. They don't have a lot of their competing flavour, they have a good crunch, and if you slice them on the diagonal, you get a lot of surface area.
The only other life question I have is how long I can go before making this same mistake again. (The answer is THIS DIP!)
Hot Crab Spinach Artichoke Dip Recipe
Print
Hot Crab Spinach Artichoke Dip Recipe
This hot baked spinach, artichoke, and crab dip is a crowd-pleasing party dip that's easy to make ahead of time, deliciously cheesy, and packed with flavour. It's also possible to make it in a crockpot!
Author:
Prep Time:

10

Cook Time:

30

Total Time:

40 minutes

Method:

Bake
8 ounces

softened cream cheese
a half-cup mayonnaise
a half-cup sour cream

10 ounces

baby spinach, fresh

2

14-oz cans drained artichoke hearts, ideally Progresso brand

8 oz

crab claw meat sifted for shell fragments
Shredded parmesan cheese, 6 oz.

2

minced garlic cloves

1 teaspoon

pepper

2 teaspoons

Old Bay seasoning

14 teaspoon

cayenne pepper
To taste kosher salt.
Instructions
Preheat the oven to 400°F. (If using a crockpot, omit this step.)
In a large mixing bowl, combine cream cheese, mayonnaise, and sour cream until smooth.
Fill a large microwave-safe bowl halfway with spinach and a dash of water. Cover and steam for 3 minutes, or until the spinach is thoroughly wilted. Drain the spinach, wrap it in many paper towels and squeeze out the excess water. Rep using fresh paper towels till they don't soak through right away. Squeeze out more water after chopping it into smaller pieces.
Artichoke hearts should be quartered and then roughly chopped. Place the artichokes between several layers of paper towels and gently pat to absorb any excess water. Rep using fresh paper towels till they don't soak through right away.
Stir in spinach, artichokes, crab meat, and 1 cup parmesan cheese to the cream cheese mixture. It would help if you had some parmesan left over.
Stir together the garlic cloves, pepper, Old Bay, and cayenne pepper in a mixing bowl. If required, season with kosher salt to taste.
Distribute evenly in a casserole dish and sprinkle with the remaining parmesan cheese. Bake for 20-25 minutes, or until the dip browns around the edges. Preheat the oven to broil for 2-3 minutes, or until the cheese is golden brown. Alternatively, place the dip in a crockpot and heat until well warm.
Serve with pita chips, pieces of toasted bread, or sliced zucchini and mushrooms.
Keywords: hot crab spinach artichoke dip recipe, hot artichoke and spinach dip recipe, best crab artichoke spinach dip, hot spinach artichoke dip near me
People Also Ask:
What do you serve with hot crab spinach artichoke dip?
We served this dip with fresh hot tortilla chips at the restaurant. They were a terrific companion, in my opinion, but crackers or crusty bread are also good options! You could probably hand me a spoon, and I'd eat it that way. There are no lies.
Recommended Articles:
Weight Watcher Ground Beef Recipe
New York Times Pizza Dough Recipe
Fudge Recipe Condensed Milk Microwave