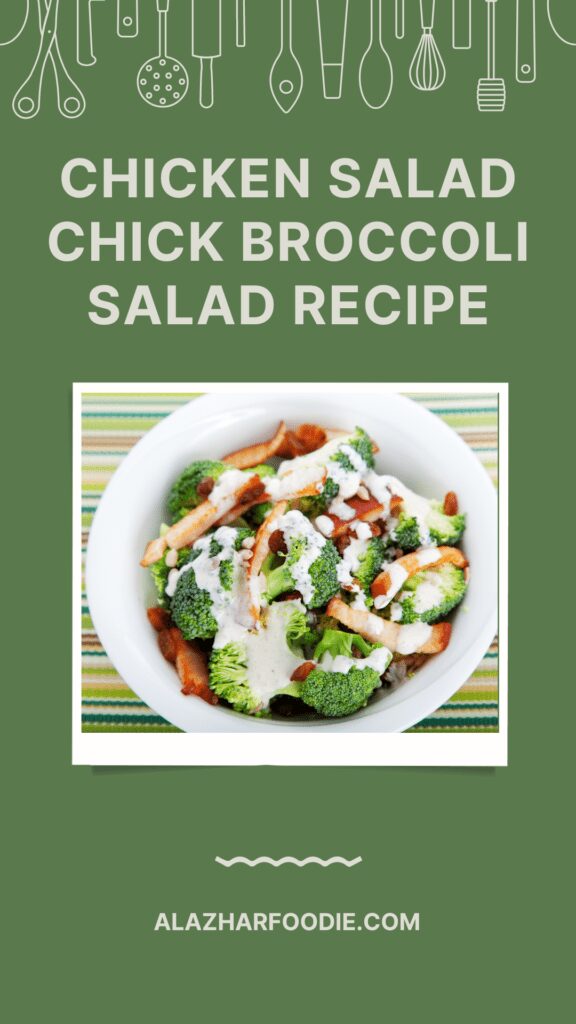 Chicken Salad Chick Broccoli Salad Recipe
Topic: Chicken Salad Chick Broccoli Salad Recipe
Table of Contents
Chicken Salad Chick Broccoli Salad Recipe
INTRODUCTION:
The chicken salad chick's menu lists broccoli salad as a side dish, but I would happily eat it for breakfast, lunch, and dinner. I decided to attempt preparing it at home since it is one of my all-time favourite side dishes.
Prepare yourself for a whole LOT of deliciousness in one plate if you've never experienced a Chicken Salad Chick Broccoli Salad. Consider crisp, green broccoli, cheddar, and mozzarella cheeses with a sweet-sour mayonnaise sauce. Crumbled bacon would be sprinkled on top.
This broccoli salad is straightforward to make whenever you need a side dish that everyone will enjoy. Just chill it in the refrigerator for at least an hour before serving so the flavors can meld. Throw the salad away the night before you need it since it will taste better the next day.
REASONS TO TRY THIS RECIPE:
The mouth-watering taste and texture. Broccoli, tangy cheese, and salty bacon are all delicious when combined and covered in a sweet and creamy sauce. It's an appealing side dish. A terrific approach to encourage kids and kids at heart to eat their vegetables is with this Chicken Salad Chick knockoff.
Bacon and broccoli go well together. I mean, bacon makes everything better. Seriously, this dish is SO delicious. It is an exact duplicate of Chicken Salad Chick's famous broccoli salad. Enjoy!
VARIATIONS:
Stick with the ingredients stated if you want a broccoli salad that tastes exactly like the one from Chicken Salad Chick. Otherwise, you can add beautiful extras to make it your own! Here are some ideas:
Fruit that has been dried: Although the Chicken Salad Chick recipe doesn't call for dried fruit, golden raisins, ordinary raisins, or dried cranberries offer a pleasant sweet note to balance the savory elements.
Nuts and seeds: Sunflower seeds are always terrific in broccoli salad if you need extra crunch. Also fantastic would be chopped pistachios.
Add enough finely chopped red onion to give the dish a pleasantly tangy bite without dominating it. Instead, try using finely chopped chives for a softer onion flavor.
Chicken: To add more protein to this creamy broccoli salad, add tender chicken breasts, diced or shredded.
Print
Chicken Salad Chick Broccoli Salad Recipe
Chicken Salad Chick Broccoli Salad Recipe
Author:
Prep Time:

10

Cook Time:

1

Total Time:

11 minutes

Yield:

1

2

1

x
Category:

Salads

Cuisine:

American
8 oz

. of bacon

3

heads of broccoli, or

32 oz

., sliced into bite-sized florets
Salt
Mayonnaise, one cup The best mayo for authentic southern flavor is Duke's. Use light or mayonnaise made with avocado oil for a calorie-saving and healthier alternative.

1 teaspoon

vinegar made from apple cider

1/3 cup

of sugar

4 oz

. of block-shredded sharp cheddar cheese

4 oz

. of block-shredded mozzarella cheese
Season with coarse salt and freshly cracked pepper to taste
The following traditional additions are optional: finely chopped onion, sunflower seeds, raisins (or dried cranberries), and pistachios.
Instructions
Slice the bacon into bite-sized pieces and sauté until crisp in a big pan over medium heat. Save the oil to cook the Brussels sprouts, then drain on a plate lined with paper towels. And a distance.
Bring a big pot of water to a boil with salt.
Broccoli florets should be added and blanched for 60 seconds (see notes).
Drain the florets as soon as possible, then place them in an ice bath to stop the cooking. I fill a big bowl with ice and cold water, let it get chilly, and then drain it again. The hue of the florets will be a stunning bright green.
Then, spin dry the florets in a salad spinner. To remove any remaining water, spread the florets on a baking sheet and pat them dry with paper towels.
Mayo, sugar, and vinegar should all be combined in a sizable bowl and whisked until smooth.
Broccoli should be added and thoroughly coated.
Add the cheese shreds, stir, then chill for an hour.
Just before serving, add crumbled bacon on the top.
Notes
Blanch the broccoli for no more than 60 seconds; any longer than that will cause it to lose its crisp-tender "snap" and start to taste like soggy, cooked broccoli.
Raw vs. blanched broccoli: You may make this recipe with raw broccoli florets by skipping the blanching step. However, blanching the broccoli gives it a great clean, crisp bite, neutralizes the bitter flavors, and simplifies digestion.
Dry the broccoli well; if the florets are partially dry, the result will be limp broccoli and a mushy salad. If you're not in a hurry, lay the blanched florets out on a baking sheet lined with paper towels and place it in the refrigerator to assist the moisture evaporating.
Keep the salad chilled for an hour before serving so dimensional flavors can awaken and bind. The dressing has time to penetrate every crevice of the broccoli florets.
STORING:
Conserve any leftover Chick-n-Broc salad in the fridge for three to four days in an airtight container. Unfortunately, I wouldn't suggest freezing this one.
Nutrition
Calories:

320kcal

Sugar:

7g

Sodium:

390mg

Fat:

27g

Saturated Fat:

8g

Trans Fat:

0.1g

Carbohydrates:

11g

Fiber:

2g

Protein:

9g
Keywords: chicken salad chick broccoli salad recipe, recipe for chicken salad chick broccoli salad, chicken salad chick recipe broccoli salad, chicken salad chick broccoli salad recipe copycat, how to make broccoli salad from chicken salad chick
People Also Ask:
How many calories is chicken salad chick broccoli salad?
One serving of Chicken Salad Chick Broccoli Salad (4 oz) has 170 calories.
How to make salad taste like restaurant?
The fact that restaurant salads are consistently well-seasoned contributes to their extraordinary deliciousness. Chefs make it a point to season the greens with a bit of salt and pepper in addition to the dressing. With a bit of salt and pepper added, fresh vegetables glow.
What is chicken salad Chick chicken salad made of?
All white meat, chicken chopped up finely, mayonnaise, and our unique spice.
What makes the salad attractive?
The bases of lettuce cups increase in height. Sometimes, a little height is all you need. Instead of having components like tomato slices or fruit wedges lie flat on the plate, arrange them to overlap or lean against one another.
Recommended Articles:
Broiled Steak Seasoning Recipe
Recipe For Chicken Tenders And Rice
Strawberry Cake Filling Recipe
Chicken Salad Chick Grape Salad Recipe
5 Ingredient Chicken Salad Recipes