Pineapple Beer Recipe
Topic: Pineapple Beer Recipe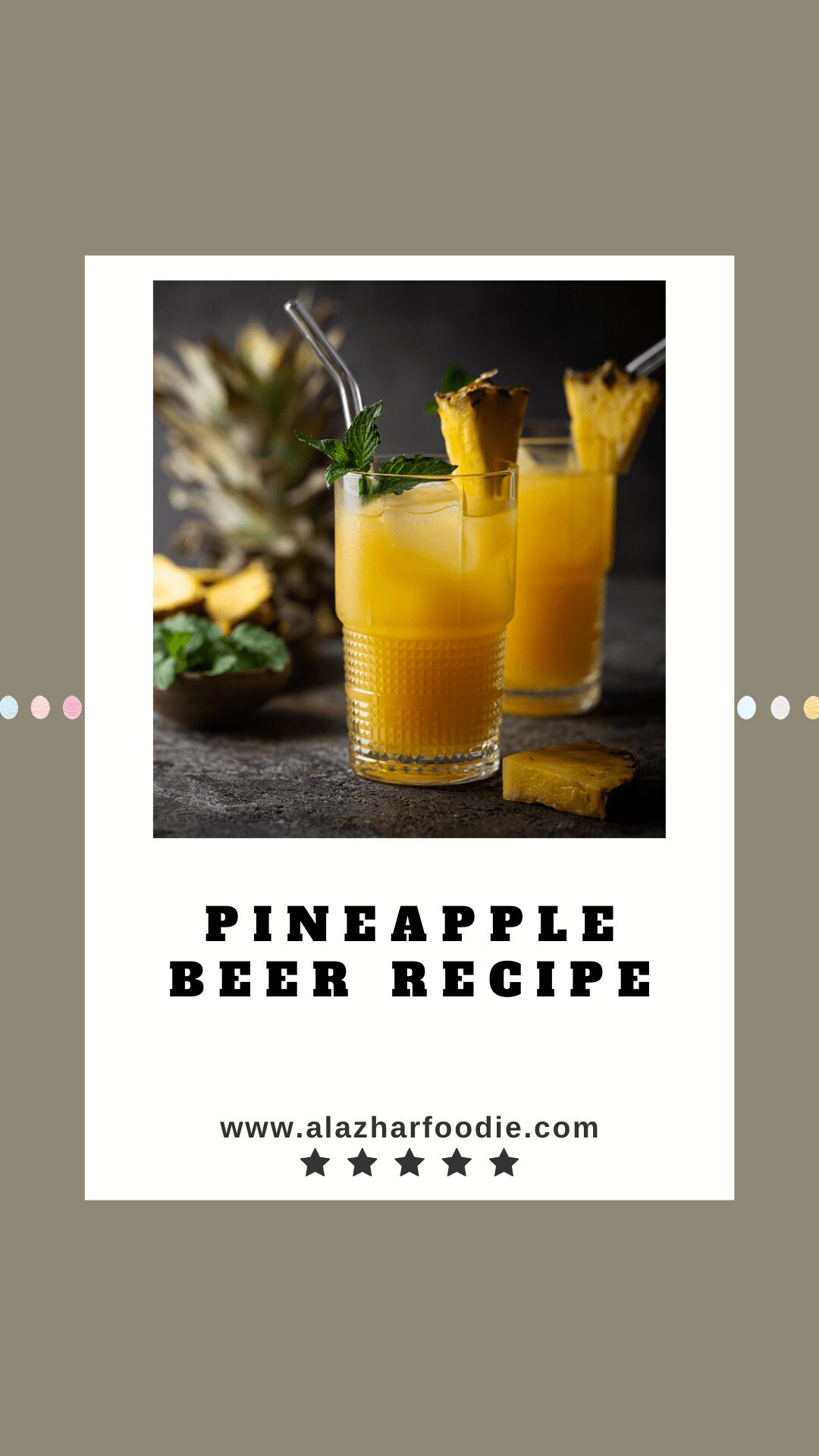 Pineapple Beer Recipe
The bad impacts of South Africa's lockdowns impacted the country; nevertheless, something more enjoyable and beneficial was the growing desire among citizens to brew homemade pineapple beer. Pineapple beer can be described as a refreshing pleasure – a bit punch-like and has been a cherished South African favorite. Perhaps you recall your grandmother and Gramps pouring you a refreshingly cold beer from the pineapple and enjoying each sip, feeling grown-up because you were drinking what's known as an "Adult beverage." Don't worry…pineapple beer that has been brewing for three days or less has no alcohol and is entirely safe for kids. Phew! If you're making pineapple beer that has an alcoholic kick, you should be prepared for it to "brew" this for five days or more, and then include more sugar to get the best flavor! Of course, there's the simple technique of re-fermenting. However, we'll talk about this later.
Making Pineapple Beer
It's not only a lockdown solution to get a buzz. It is also a refreshing alternative to punch. With summertime coming up and a refreshing pineapple beer recipe isn't a bad idea. Here is a simple and simple recipe to make pineapple beer. Do not hurry it – If you take enough time to make it correctly, you'll get an alcohol-free pineapple drink that tastes as good as it is efficient.
Is Pineapple Beer alcohol-free or not?
Simple answer? It's not so simple. The only thing I can say is the recipe did not get us drunk, sloppy, or feel that way even the slightest. It may be the more time you allow your beer to ferment, the greater the chance it will become alcohol-based. I'm talking 5 days or more. Pineapple Beer is not for sale in shops. Other than a few home-based shops (and small shops in the countryside) we used to have as kids. Non-alcoholic drinks are perfect for us. It is a refreshing, delicious beverage that I will keep making.
Pineapple Beer Recipe
Print
Pineapple Beer Recipe
This recipe for pineapple beer makes 20-24 glasses in the final.
2

pineapples Chop the leaves off but keep their peels in place (rinse the pineapples before cutting them).

Five apples. This isn't necessary, but it does provide the beer with a pleasant flavor.

6

liters of lukewarm, lukewarm water (that's 24 cups).

5 cups

of sugar-white. Don't cut corners because the sugar and yeast reaction creates alcohol in the beer.

1 cup

of plump raisins (bruise them a little just before adding).
Two and

1/2 tablespoons

instant dried yeast.

One large container or bucket (must have a capacity of more than 7 liters; there is no need for a lid).

1

towel big enough to cover the container or bucket (as a lid for the container).
Instructions
Be sure your container or bucket is clean. Clean it using dishwashing liquid, and clean it a few times using mild bleach or water. Dry the container well before taking it out for use. The contamination could cause the beer to spoil. This is why this is an essential part of the procedure.

Slice the pineapples roughly without cutting off the skin. Small and large chunks are good. Put them in the container or bucket.

Grate the apples and throw away the cores. Put them in the bucket or container too.

Add 5 cups of sugar-white into the bucket or container.

Add 1 cup of raisins, then add 24 cups of lukewarm water.

Mix thoroughly until all the sugar at the bucket's bottom appears to be dissolving.

Let the mixture rest and remain still before proceeding to the next step.

Sprinkle the yeast on top of the layer of fruit that is now floating on top of the water. Sprinkle it all over and allow the mixture to rest for a couple of minutes (2 minutes should suffice.).

Mix thoroughly to make sure the yeast is thoroughly integrated.

Find a cozy spot within the home to put the container/boiler and protect the top with an oversized towel.

Let the mixture sit for five days, stirring it gently every day. While stirring the mixture, push the fruit down below the surface to loosen it, and then stir it three times before covering the mixture again. Try to be as gentle as possible and employ the cleanest spoon.
Notes
What do you do next after five days:
After 5 days, the fruit should be floating on the water's surface.

Give the mix a thorough mix.

With a strainer, scoop the fruit out at the top and put it into an airtight bag.

The liquid can be strained with a clean kitchen towel and pour it into an ice cube or jug. Then transfer it to a bottle (plastic bottle).

Allow the bottles to stand for around an hour, and then close them. Screw the caps as tightly as you can.

The beer bottle should be moved into the cupboard located in a warm part of your home. Allow them to stand for another 3-4 days. That's the "re-fermentation" phase.

After 3-4 days have passed, you can transfer the bottles to the refrigerator. Once you have chilled your pineapple beverage, the fermentation process stops as the alcohol level is steady.
Keywords: pineapple beer recipe,pineapple beer recipe with a kick,pineapple beer recipe all grain,pineapple beer recipes youtube,pineapple beer recipe 20 litres,pineapple ginger beer recipe,pineapple sour beer recipe,pineapple wheat beer recipe
People Also Ask:
Pineapple beer alcohol percentage
Fermented Pineapple Beer is a booze-based drink with an alcohol content of around 2percent ABV, although it could be lower if you allow it to ferment for less time and more so if you let it sit longer or located in a warmer climate.
High alcohol pineapple beer
Cinnamon (Just a little bit!) Yeast adding just one spoon of baking yeast to the contents of your Pineapple Beer will make it much more alcohol-based as opposed to making use of the natural yeasts present in the rind on its own.
What does pineapple beer taste like?
The aromas reminiscent of fresh hops, citrus and subtle pineapple come out of the glass. A pleasant round mouthfeel is accompanied by some acidity (it can be described as an IPA, after all) and the flavors of dried pineapple and orange peel.
How long does pineapple beer take to ferment?
The jar is closed by putting the lid on. Let it sit for two to five days. Shake the jar every day or stir it using a wooden spoon. If you notice bubbles and enjoy the flavor you like, strain the tepache to get rid of the pineapple and the spices.
Does pineapple beer make you drunk?
Fermenting pineapples can seem like a desperate idea to those who aren't familiar; however, the result is an alcohol-based drink. Pineapples are rich in sugar, and yeast is naturally found in the pineapple's skins. Since yeast eats sugar to create alcohol, the end product can induce the feeling of. The addition of your own ingredient can increase strength.
Pineapple beer benefits
"Pineapple beer isn't an awful option compared with regular beer; however, drinking normal water is certainly a healthier option." Absolutely. Alcohol is not a nutrient and is a source of 29 kilojoules for each Gram, which means that if you drink it excessively, it can cause a weight increase.
Recommended Articles:
Weight Watcher Ground Beef Recipe
Ranch Dressing Recipe With Greek Yogurt
Coconut Water Smoothies Recipe
Olive Garden Peach Bellini Tea Recipe