Eggnog Latte Starbucks Recipe
Topic: Eggnog Latte Starbucks Recipe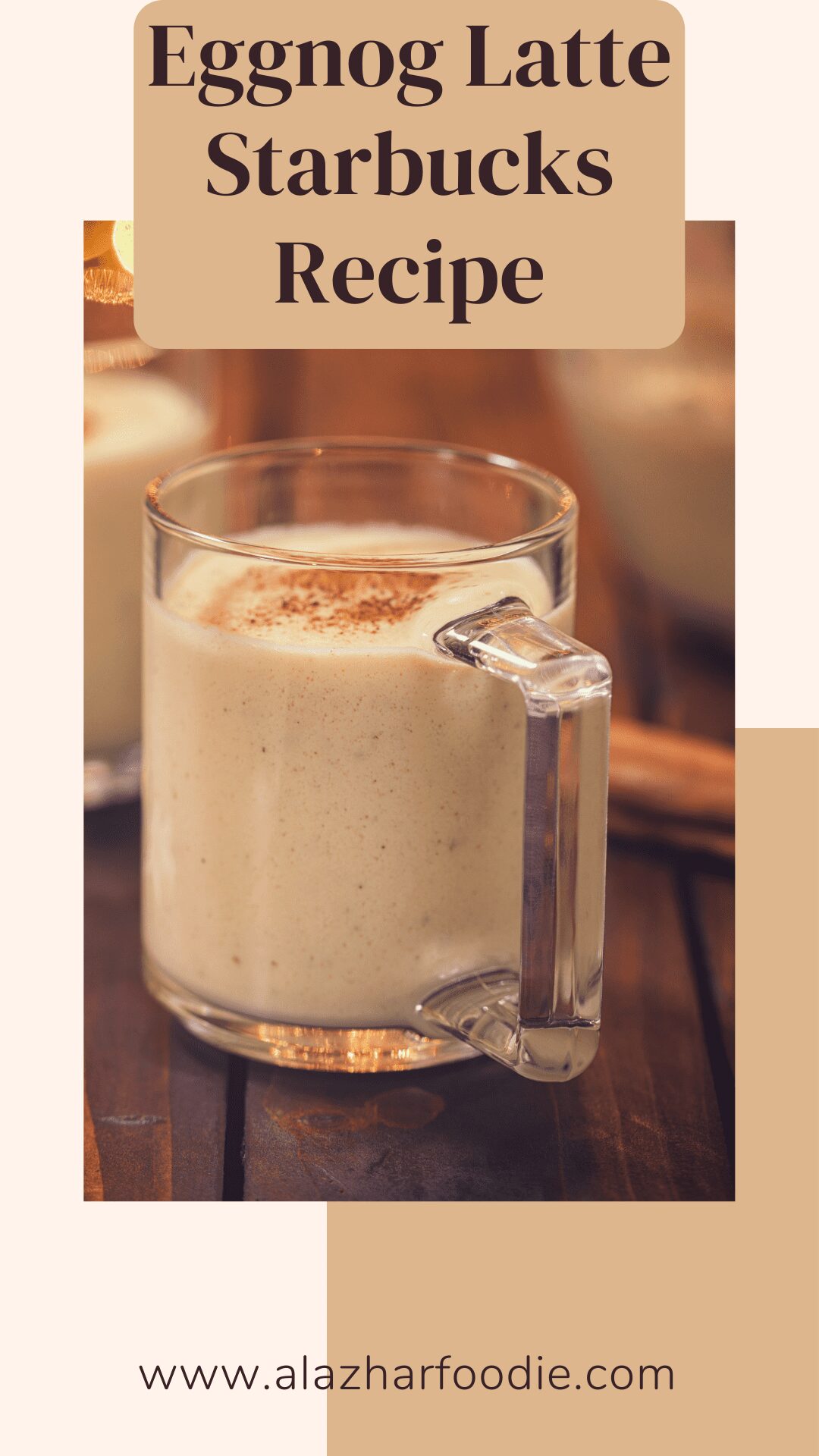 Eggnog Latte Starbucks Recipe
So, we're a bunch of eggnog lovers! For us, eggnog is a favourite ingredient in holiday dishes, whether it's the renowned Eggnog Amaretto Cocktail or the equally delicious Frosted Chai Spiced Eggnog Cookies!
To make my eggnog latte this year, I had to learn to make it from scratch. Just eggnog, milk, and a sprinkling of nutmeg are all you need to make it. You'll require a few minutes, and it'll cost you a fraction of the price if you do it yourself. You can prepare several more at home for the same price as one coffee at Starbucks.
The recipe has a lot going for it because it's so adaptable. Non-dairy milk and vegan eggnog are needed to make this dessert vegan. Vegan eggnog is available, and it's delicious. Coconut, soy, and almond are just a handful of the options.
Try it out! Espresso can also be used in place of highly brewed coffee. There is no right or wrong answer; it's up to the individual. Using this recipe for egg-free eggnog is a favourite of mine!
The iced latte or the Frappuccino can also be made using this recipe. To make an iced latte, ensure the espresso and eggnog mixture are completely cooled before pouring them over ice. Add 2 cups of vanilla ice cream to make a Frappuccino out of it. You can't go wrong with either of these alternatives!
Eggnog Latte Starbucks Recipe
Print
Eggnog Latte Starbucks Recipe
To save money this holiday season, try making your Starbucks-style eggnog latte. A few simple ingredients are all that is needed to make this dish taste fantastic!
Author:
Prep Time:

5

Cook Time:

5

Total Time:

10 minutes

Category:

Drinks
Espresso with

2

shots (or

2 cups

strongly brewed coffee)
A cup and a half of eggnog
A quarter of a cup of milk
One-eighth of one teaspoon of nutmeg
Instructions
Eggnog and milk should be heated in a small saucepan over medium heat. When using espresso instead of coffee, add it to the saucepan. Stir often for about 5 minutes or until the mixture is heated.
Use an immersion blender to whip up a batch of eggnog that's frothy and creamy. Instead of using an immersion blender, you can use a regular kitchen blender instead.
Espresso should be added to two mugs; then, the eggnog should be divided. Serve right away with a sprinkle of nutmeg on top.
Nutrition
Serving Size:

Tall

Calories:

380 kcal

Sugar:

42g

Sodium:

190mg

Fat:

17g

Saturated Fat:

10g

Trans Fat:

0.5g

Carbohydrates:

45g

Protein:

13g

Cholesterol:

120mg
Keywords: eggnog latte starbucks recipe, eggnog latte starbucks ingredients, eggnog chai latte starbucks recipe, iced eggnog latte starbucks recipe, how does starbucks make an eggnog latte, does starbucks have eggnog latte, is the eggnog latte back at starbucks, does starbucks eggnog latte have alcohol, eggnog latte starbucks recipe
People Also Ask:
When does Starbucks eggnog latte come out?
According to a tweet from the restaurant, eggnog latte will not be returning this year. Our new Iced Sugar Cookie Almondmilk Latte, available in the United States, is a modern spin on a holiday favourite! Eggnog Latte can still be had with a bit of ingenuity.
How do you make a Starbucks eggnog latte less calories?
If you prefer almond or non-dairy milk, request it.
The whipped cream should be put on hold.
Add a shot of espresso (optional)
What is in a Starbucks eggnog latte?
This traditional holiday flavour is delicately accented with seasonal ground nutmeg, featuring our espresso and creamy steamed eggnog.
How many calories in a tall eggnog latte from Starbucks?
A Tall Eggnog Latte with Whole Milk from Starbucks has 380 calories.
When does Starbucks serve eggnog latte?
Bustle reports that Starbucks will begin selling its holiday drinks on November 6, 2020, while an official announcement stated that the beverage business began selling its seasonal beverages as early as November 1.
How much caffeine is in Starbucks eggnog latte?
In addition to bringing back memories of chestnuts roasting over an open fire, the Eggnog Latte will provide a burst of energy when you're feeling a little sluggish. Caffeine is present in this beverage at a level of 150mg. It is topped with a generous dusting of grated nutmeg for the final touch.
Did Starbucks get rid of Eggnog Latte?
The Eggnog Latte is no longer available, but our partners would be pleased to propose an alternate beverage or customise a special order.
Recommended Articles:
New York Times Pizza Dough Recipe