Chicken Chop Recipe Bengali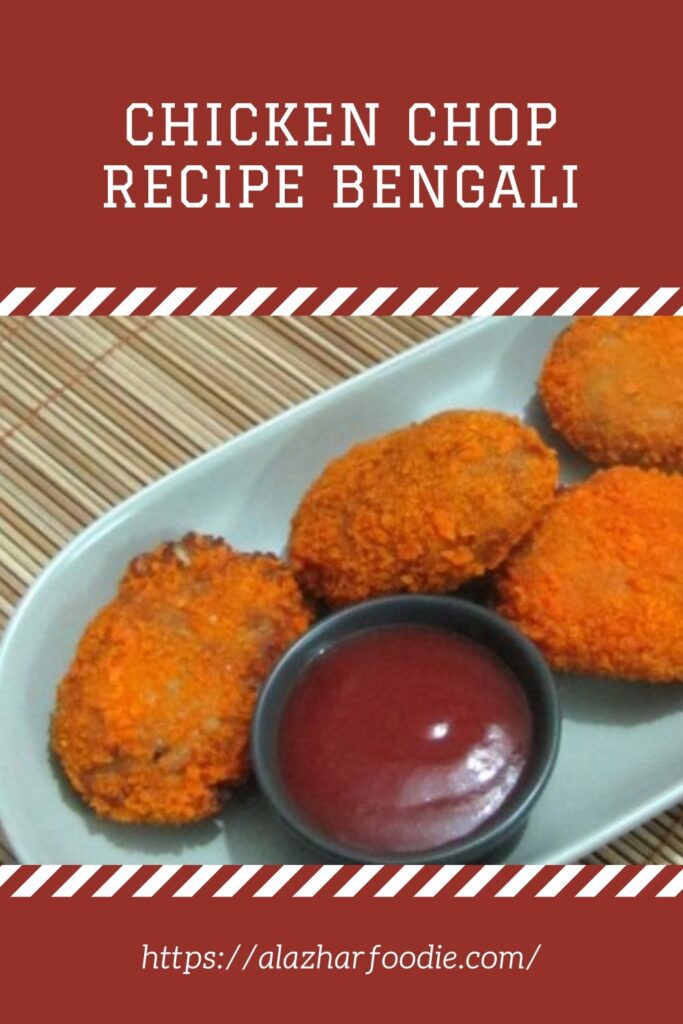 Topic: Chicken Chop Recipe Bengali
Chicken chop is very tasty to eat. So many dishes are made from chicken that we cannot think. Chicken chop is a very famous dish of Bengal. It is a famous street food. Bengali people are fond of food and Bengal is considered a paradise to eat.
There are so many tasty and different dishes available. Today we are going to write a non veg recipe, which is the most famous street food in Bengal, that is Chicken Chop. You will never miss the type and taste of food in Bengal. The chicken chop is made from chicken kheema and the masala is fried with thick eggs and bread crumbs in a thick screen of potatoes.
The spices that are used are the special thing of a shop, which those people have never told, but this is the basic procedure of Chicken Chop. Today, we have written this shop-like crisp chicken snack at home. You can also serve chicken chop with tomato ketchup, coriander mint chutney, raita, tamarind chutney or a salad made of onion and cucumber, which you like.
You can make this chicken chop recipe bengali at home or even if you live in hostels or mess in an easy way. You can enjoy this chicken chop with hot tea in the evening while watching the rain outside. In this rainy season right now, you can win your heart by serving this chicken chop to your family. Will definitely make this chicken chop once.
Chicken Chop Recipe Bengali
Print
Chicken Chop Recipe Bengali
Author:
Prep Time:

20

Cook Time:

10

Total Time:

30 minutes

Category:

Snacks

Cuisine:

Indian
Boiled potato 4 pieces

Chicken minced 200 grams

Egg 3 pieces

Bread Crumbs 2 cups

Oil for 300 gm

Finely chopped onion 2 pieces = 1 cup

Finely chopped ginger 1 tsp

Finely chopped garlic 1 teaspoon

Finely chopped green chili 2 pieces

Finely chopped coriander leaves 1/2 cup

Salt 1 tbsp

Turmeric powder 1 tbsp

Red chili powder 1 tbsp

Black Pepper Powder 1/4 Tbsp

Coriander powder 1/2 tbsp

Cumin powder: 1/2 tbsp

Garam Masala Powder 1/4 Tbsp

Sugar 1/4 teaspoon
Instructions
How to make Bengali style chicken chop recipe:
Firstly boil the potatoes to make chicken chop. After boiling the potatoes, take out the skin of the potatoes and grate the potatoes. Now knead the potatoes with a good hand, add 1/2 tablespoon salt to the potato and keep it aside after kneading it.
Now beat 3 eggs and keep aside. Now take 6 breads and roast them for a while. Now grind them into small pieces. Now mix in a mixer, and the prepared bread crumbs.
Now, let's start making the chicken masala. Heat a pan, now put 2 tbsp oil in the pan and let it heat up.
Now mix 1 cup finely chopped onion, now add green chili and 1/2 teaspoon salt and fry the onion lightly. Now add turmeric powder 1/2 teaspoon, red chilli powder 1/2 teaspoon (if you want to eat less spicy then add less or not add it) and fry the onion.
Now after 3 to 4 minutes, add the chicken mince and mix it well. Now add black pepper powder 1/4 tbsp, coriander powder 1/2 tbsp, cumin powder 1/2 tbsp, garam masala powder 1/4 tbsp, sugar and 1/4 tsp and fry the chicken properly. Up to 4 minutes
Now finely chop the chopped coriander and put it in the chicken. Mix well and make the chicken masala. Now potato mixture, chicken chop spice, egg mixture and bread crumbs are ready. Now let us start making Chop. I have written the entire process here one after the other, but when you make it, you will realize how easy it is.
Now take a little bit of potato mixture, now make it in a round shape and fill 2 spoons of chicken masala in the middle and slowly close the potato mixture like a dough ball. Make all the chops in this way. If you want, you can make it long, or in round or love shape.
Now the chicken chop is ready to be fried. Now fry 300 grams of oil in a pan to heat it. Now dip a chop in the egg mixture and place it in bread crumbs and keep it in a plate. In this way all the chicken chop floor is ready for it. Now you can keep it for a while in the furries, or you can fry it.
After the oil is heated, when the smoke starts coming out of the oil, then reduce the flame and then let the oil cool down for a few seconds. Now is the right time when you put the chicken chop in the oil. If you put it in hot oil, then the chop will go from outside to black and the chop can burn. Now turn and fry the chicken chops. There is no need to fry too much, start to get a little golden brown only then take it out. All the spices and potatoes inside are already made, so don't fry too much.
Now take out the chicken chop one after the other in tissue paper or in the paper, then after all the chicken chop is done, cut the onion and cucumber in the plate with the lemon juice chut masala and tomato ketchup. Serve hot with. You can also serve chicken chop with tea.
Keywords: Chicken Chop Recipe Bengali