Cheddar Cheese Sticks Recipe
Topic: Cheddar Cheese Sticks Recipe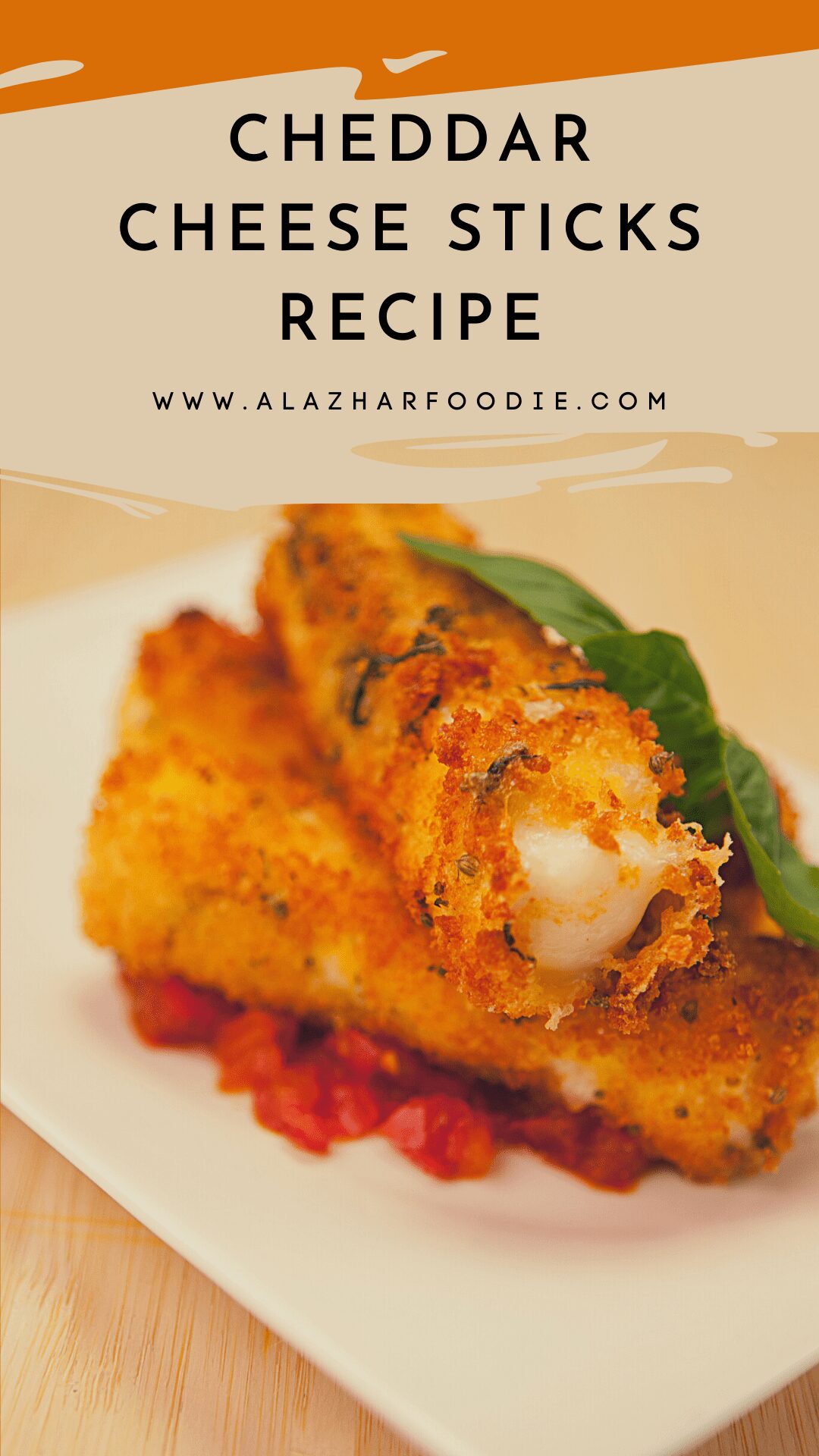 Cheddar Cheese Sticks Recipe
Homemade Fried Mozzarella Cheese Sticks are a delicious appetiser and finger food for the whole family. I prefer to prepare a big batch of them and keep them in the fridge for a few days.
The flavour is enhanced by using mozzarella and cheddar cheese string sticks. Thanks to the panko crumbs and flour mixture, they also have an appealing and crispy covering. You know you've got a winner when you dip them in homemade marinara sauce. Every taste is sheer bliss, enjoyed by both children and adults!
We enjoy munching on them all the time, and they are a favourite in lunch boxes. This time, we turned our favourite snack into one of the most delectable and straightforward appetisers and finger foods!
Enjoy them as a quick snack on game days or during the Super Bowl. The sticks are excellent and may be prepared ahead of time and stored.
Cooking advice:
If you have a large amount to prepare, cook in batches to avoid overcrowding the pan or deep fryer.
Also, make sure to coat the entire stick, including both ends, with the coating! Additionally, firmly push the breadcrumbs into each piece. Otherwise, the cheese will melt during the cooking process.
Each stick will be coated twice. The rationale for this is to give it a little more crunch and keep the cheese from melting outside.
To avoid melty cheese, it's best to freeze the sticks before cooking. You can freeze them for approximately an hour if you put them on a cookie sheet.
Is it possible to air fry them?
Heating to 400 ° Fahrenheit is the recommended temperature for the Air Fryer.
Then, arrange the sick in a single layer in the air fryer basket (being careful not to overcrowd them), and cook for 5-7 minutes.
Serve with marinara sauce or a dipping sauce of your choice.
What's the best way to create baked cheese sticks?
If you like, you might also bake them inside the oven. It's also a better option than deep-frying them.
To begin, lightly coat the mozzarella sticks in frying spray.
Then, arrange them in a single layer on a baking sheet and bake for 10-12 minutes at 400 degrees, or until crispy and melted cheese.
Cheddar Cheese Sticks Recipe
Print
Cheddar Cheese Sticks Recipe
The battered and deep-fried cheddar sticks are a tasty and classic appetiser. They are golden brown and crispy. With a homemade marinara sauce, they make the perfect appetiser for a get-together.
Author:
Prep Time:

15

Cook Time:

5

Total Time:

20 minutes
String Cheese (16 ounces) (I used mozzarella and cheddar)

2 cups

plain Panko bread crumbs (or regular Italian bread crumbs)

1 teaspoon

seasoning (Italian Herbs)

1 tsp

. paprika (smoked) (or regular)

1 teaspoon

powdered garlic
salt (1/4 teaspoon)

1/4 teaspoon

black pepper, ground
a single huge egg

1 gallon

buttermilk (room temperature)
For frying, oil
Instructions
Heat about 2 inches of oil in a deep frying pan or skillet over high heat until it sizzles.
Buttermilk, egg, salt, and pepper are whisked together in a shallow basin. Remove from the equation.
Mix bread crumbs with Italian Herbs seasoning, paprika, garlic powder, salt, and pepper in a separate shallow basin. Remove from the equation.
Remove the string cheese sticks from their packaging. Toss each one in the buttermilk mixture, allowing extra moisture to drip off, then in the breadcrumbs mixture, then back into the buttermilk mixture, and finally back into the breadcrumbs.
Add to the heating oil in the pan. They are deep-fried for approximately 1 minute total, 20-30 seconds on one side and 20-30 seconds on the other, just until golden brown crust.
Drain the excess oil from the fried cheese sticks on paper towels, then serve immediately with a homemade marinara sauce for dipping.
Nutrition
Serving Size:

12 sticks

Calories:

197 kcal

Sugar:

1g

Sodium:

445mg

Fat:

9g

Saturated Fat:

5g

Carbohydrates:

9g

Fiber:

0g

Protein:

10g

Cholesterol:

38mg
Keywords: cheddar cheese sticks recipe, cheddar cheese breadsticks recipe, fried cheddar cheese sticks recipe, crispy cheddar cheese sticks recipe, sharp cheddar cheese sticks recipe, cheddar cheese sticks recipe baked
People Also Ask:
How do you melt cheddar cheese sticks?
Microwave the food for 15 seconds at a low temperature. Microwave the cheese shreds in a bowl. Shut the door of the microwave. Your microwave should have a low-heat setting available. When melting cheese, use the lowest heat setting possible.
What happens if you microwave a cheese stick?
If you're cooking frozen mozzarella sticks, it's important to remember that the cheese should melt while the outside is crisp-cooked. The microwave can make mozzarella sticks mushy, which is one reason many prefer to
cook them in the oven
.
Recommended Articles: