Oreo McFlurry Recipe
Topic: Oreo McFlurry Recipe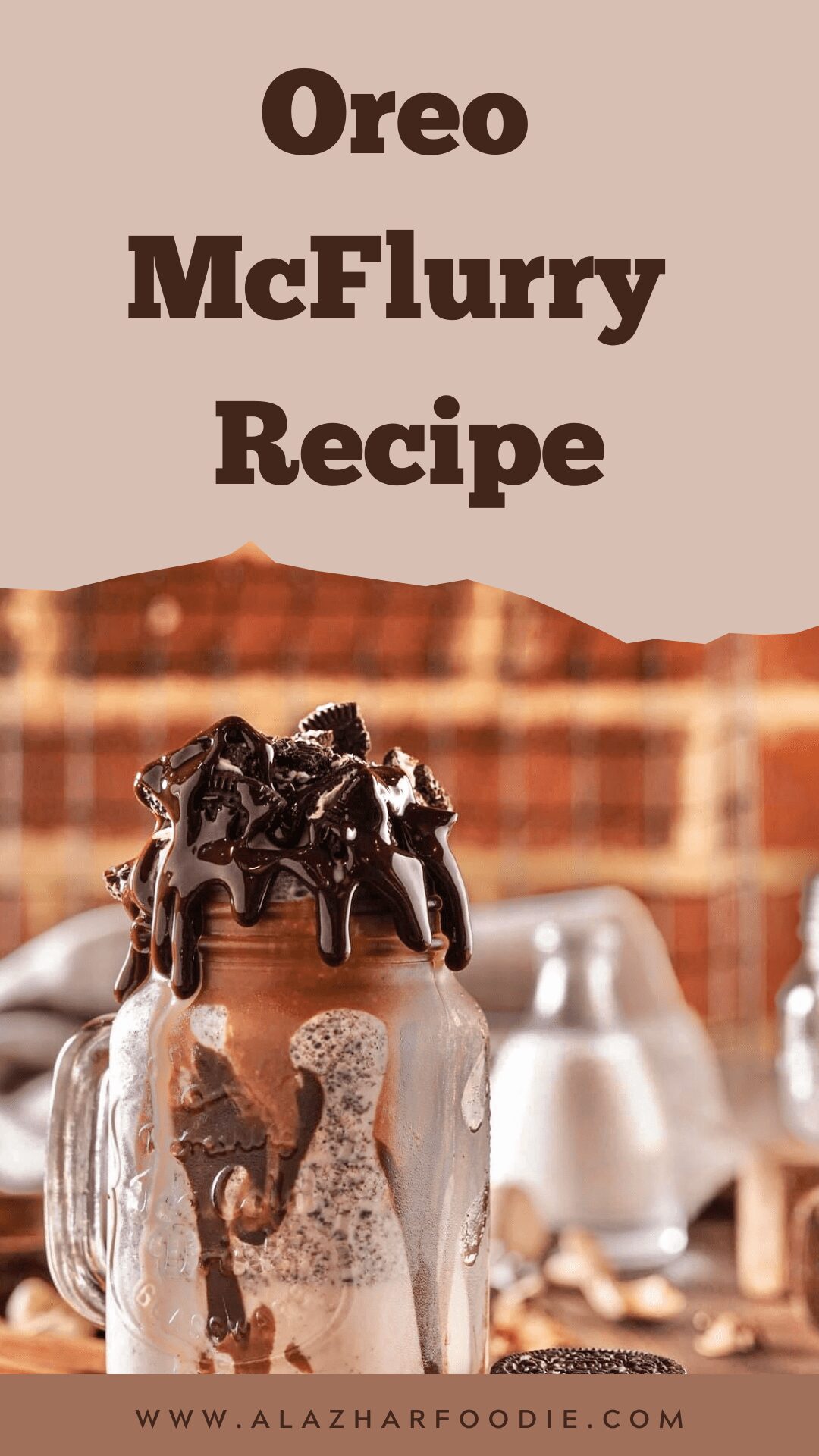 Oreo McFlurry Recipe
Shh, there's a secret at McDonald's. While McDonald's is best known for its hamburgers, it also makes some surprisingly good ice cream. Mickey D's serves everything from essential cones to traditional hot fudge sundaes.
However, if you're searching for something a little more modern, you must try one of their best-frozen desserts, the Oreo McFlurry. You don't want to go out? Don't be concerned. At home, you can make your own McDonald's McFlurry.
What exactly is a McFlurry?
A McFlurry is as straightforward as it gets. It's just ice cream, a little milk, and some extras. But don't be fooled by McFlurry's simplicity; it's genuinely tasty. McDonald's offers two McFlurries: one with M&M candies and one with Oreo biscuits.
While each flavour has its fan base, the Oreo version has a more nuanced flavour profile, but feel free to experiment with the ingredients to create something unique. Check out some of our favourite taste combos below.
Restoring Soft-Serve Consistency
McDonald's vanilla ice cream is soft-serve, but you can achieve a similar soft-serve consistency using ordinary ice cream and a few methods.
Begin by selecting the appropriate ice cream. The fat content of good quality, hard-pack ice cream, such as that offered in supermarkets, is substantially higher than soft-serve ice cream. Cheaper national and supermarket brands of ice cream frequently contain less fat and a higher amount of air whipped into them.
While reduced fat and more air are not good in general, they are lovely in this recipe. However, avoid purchasing any ice cream that contains chemical stabilisers or other additions.
The next item you'll need is a high-powered blender. While a weaker machine can be used, you may find that you need to let the ice cream soften for longer or use more milk to get the blades working. Overwhipping the ice cream in the blender creates a creamier texture, but you don't want the blender to get too hot and entirely melt the ice cream.
Before mixing, scoop the ice cream into your blender and let it sit for at least 5 minutes. This gives the ice cream enough time to soften. Don't leave out the entire container of ice cream because refreezing melting ice cream can result in bacteria and a gritty texture.
Tips for Different McFlurry Flavors at McDonald's
Use different ice cream flavours. It is better to stick to ice cream varieties that do not already include add-ins.
Make use of a range of mix-ins. Any candy bar works well as a mix-in. You may make breaking up a candy bar much easier by freezing it first and then putting it in a plastic bag before breaking it up with a rolling pin. You can also use candied nuts, ginger, cookies, or your favourite cereal instead of candy!
Make use of syrups and concentrates. Replace the milk with soda, coffee syrup, or focus. Try it with cola syrup, vanilla ice cream, a few maraschino cherries or almond extract, and a few broken sugar cookies!
Oreo McFlurry Recipe
Print
Oreo McFlurry Recipe
At home, you may relish a Mcd's Oreo McFlurry even more!
Author:
Prep Time:

5

Cook Time:

2

Total Time:

7 minutes

Yield:

1

1

x
Category:

Drinks

Cuisine:

American
2 quarts

vanilla ice cream

2 tbsp

whole milk

4

Oreo biscuits
Instructions
Place the ice cream and milk in a blender and mix them.
Crumble the Oreo cookies into the blender, then pulse to incorporate the cookies a few times.
Pour into a glass and serve.
Nutrition
Serving Size:

1

Calories:

790kcal

Sugar:

77g

Sodium:

445mg

Fat:

40g

Saturated Fat:

22g

Carbohydrates:

98g

Fiber:

3g

Protein:

13g

Cholesterol:

119mg
Keywords: oreo mcflurry recipe, mcdonald's oreo mcflurry recipe, mcflurry oreo recipe, oreo shamrock mcflurry recipe, oreo mcflurry e juice recipe, mcdonalds oreo mcflurry recipe, mcflurry recipe oreo rolling pin, how to make a oreo mcflurry recipe, homemade oreo mcflurry recipe
People Also Ask:
What are Oreo McFlurries made of?
Dairy, Artificial sweeteners, Creme, Cane Sugar, Organic Flavour, Mono and Diglycerides, Cellulose Gum, Guar Gum, Carrageenan, and Vitamin A Palmitate
How do you make a Oreo McFlurry?
Place the ice cream and milk in a blender and mix them. Crumble the Oreo cookies into the blender, then pulse to incorporate the cookies a few times. Pour into a glass and serve.
Which is better Oreo or M&M McFlurry?
The original Oreo McFlurry is made with vanilla soft-serve ice cream and crushed Oreos. The cookie pieces give the McFlurry a great crunch, and it tastes like cookies and cream ice cream, but better. Overall, I give it a 7/10 since, while it tastes excellent, the M&Ms make it mushy.
How much is a small Oreo McFlurry?
McFlurry topped with M&Ms (Snack Size)-        $1.69
OREO Cookies in a McFlurry (Regular)-              $2.39
OREO Cookies in a McFlurry (Snack Size)-         $1.69
Does Oreo McFlurry have sizes?
The McDonald's Desserts & Shakes menu comes in Regular and Snack sizes.
Recommended Articles: