Hidden Valley Cucumber Ranch Salad Dressing Recipe
Topic: Hidden Valley Cucumber Ranch Salad Dressing Recipe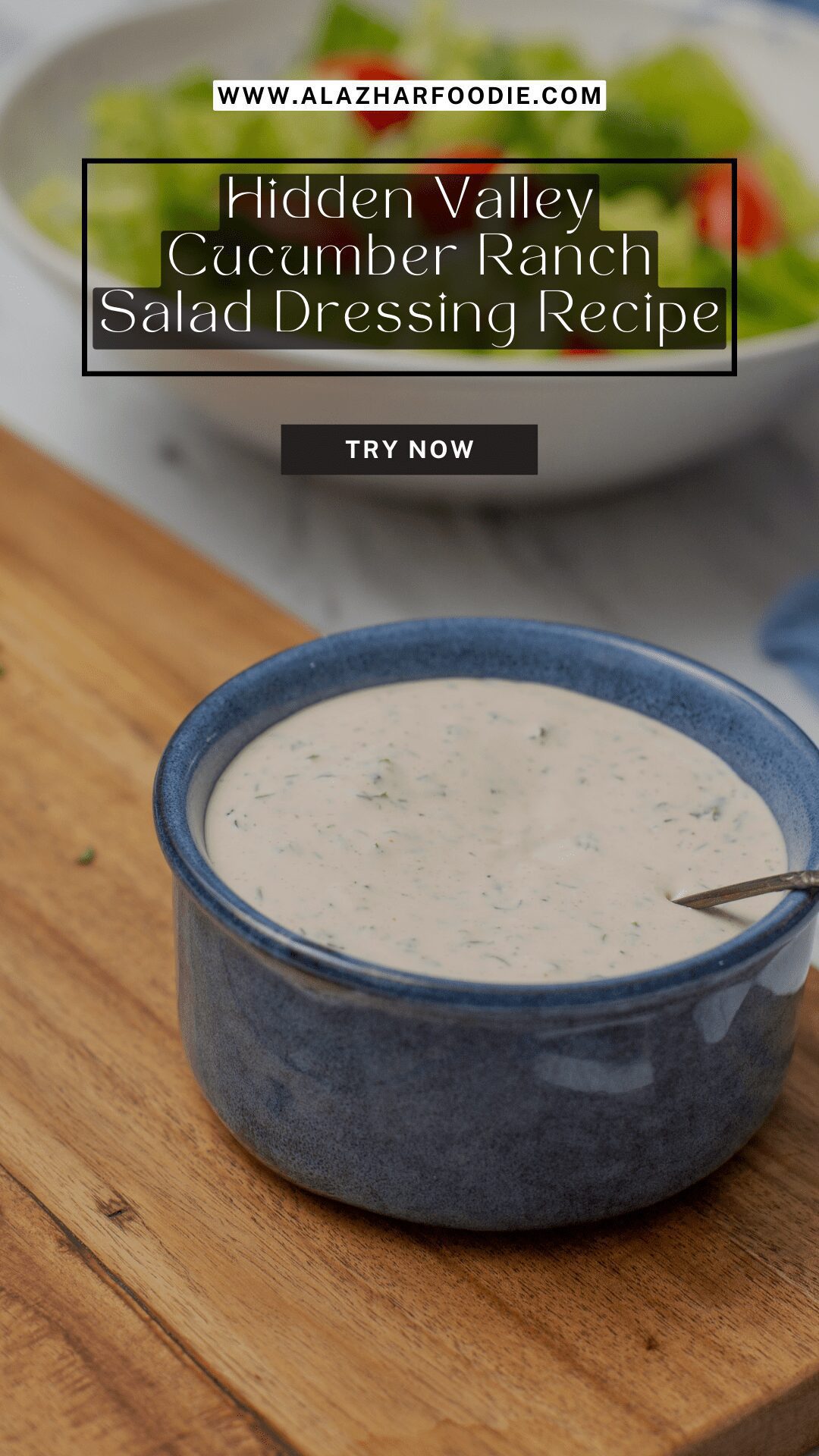 Hidden Valley Cucumber Ranch Salad Dressing Recipe
Enjoy the fresh taste of cucumber anytime with Hidden Valley Original Cucumber Ranch Dressing. Creamy and tangy cucumber ranch dressing makes it easy to get your daily dose of greens. For delicious side dishes, toss cucumber vinaigrette with pasta or potatoes. Or toss with mixed greens, diced tomatoes, and chicken for a quick and easy dinner. Hidden Valley Ranch Dressing is also a delicious addition to sandwiches, tacos, burgers, or a dip with a platter of veggies or fries. This actual cucumber-based, gluten-free dressing is as delightful as it is useful.
CUCUMBER RANCH DRESSING – Add cucumber ranch dressing to more than salads – add it to chicken or pasta as a savory topping for an easy and delicious meal; the package may vary
Gluten-free: Perfect for school lunches or backyard BBQs, this gluten-free dressing is made with garlicky dill flavor and refreshing cucumber chunks.
Salad Topper: Get your daily dose of veggies the delicious way by adding Cucumber Ranch as a salad topper or as a classic veggie dip.
Condiment: Use topping on burgers, sandwiches, and wraps to refresh your meal prep or nighttime routine or as a topping with fries, pizza, and chicken strips.
Easy dinner: Add instant flavor to your favorite salad, meal, or side dish with a Creamy Hidden Valley Cucumber Ranch Dressing splash.
Hidden Valley Cucumber Ranch Salad Dressing Recipe
Print
Hidden Valley Cucumber Ranch Salad Dressing Recipe
Author:
Prep Time:

15

Total Time:

15 minutes

Category:

Salads

Cuisine:

American

Diet:

Gluten Free
Cucumber, peeled, seeded, chopped- 1/2 cup

Dill leaves- 1/2 teaspoon

Hidden Valley Original Ranch Seasoning, Dressing, and Recipe Mix Packet- 1

Sour cream or Greek yogurt substitute-2 cups

French fries and sliced vegetables
Instructions
Mix all the ingredients in a bowl. Mix well. Best if refrigerated overnight. Serve with fries and vegetable dips.
Keywords: hidden valley cucumber ranch salad dressing,hidden valley ranch cucumber salad recipe,how to make hidden valley ranch salad dressing,hidden valley salad dressing recipe
You Can Buy Here The
Hidden Valley Original Ranch Seasoning, Dressing, and Recipe Mix Packet
No products found.
People Also Ask:
How do you make bottled Hidden Valley ranch better?
Ingredients:
1 cup mayonnaise.

1/2 cup sour cream.

1/2 cup buttermilk.

1 Hidden Valley restaurant-style ranch package.

1 teaspoon minced fresh garlic.

1 teaspoon chopped chives.

1/2 teaspoon paprika is optional.
Instructions:
Combine all ingredients in a medium bowl and beat until combined.
Cover and refrigerate for at least 30 minutes to allow the dressing to thicken.
Is Hidden Valley Ranch dressing keto friendly?
Hidden Valley Light Original Ranch Dressing is not ketogenic because it is a high carbohydrate processed food containing unhealthy ingredients like sugar, canola oil, and modified starch.
Can I use Hidden Valley ranch dip mix instead of dressing mix?
Everything relies on the texture you're after. Use the dressing mix if you prefer a thicker dressing or the pourable dressing as a dressing if you prefer a smoother, creamier texture.
Is ranch made with cucumber?
Combine cucumber, sour cream, mayonnaise, buttermilk, shallot, lemon juice and zest, honey, salt, and cayenne pepper in a blender. Puree until smooth. Add the onions, parsley, dill, and pepper and toss again until the herbs are finely chopped and well blended with the dressing.
Recommended Articles:
Weight Watcher Ground Beef Recipe
Ranch Dressing Recipe With Greek Yogurt
Coconut Water Smoothies Recipe