---
Scale
Ingredients
6 Chicken thighs (or 8, depending on size)
1  lemon
30 ml Mustard
20 ml Honey
5 ml Worcestershire sauce
5 ml Sherry vinegar or rice or apple
60 ml Extra virgin olive oil
3 Garlic clove
3 Dried or fresh thyme (sprigs)
3 Carrot
150 ml Chicken or vegetable broth
Ground black pepper
Salt
---
Instructions
1hr Total time
10 m Elaboration
50 m Cooking
Preheat the oven to 200ºC and prepare a source (until we start the recipe a few hours before). Let the chicken cool slightly from the refrigerator in its packaging. Wash, dry and peel the carrots, cut them into medium pieces. To peel garlic cloves.
Remove or burn off any possible feather residue from the thighs and pat dry with kitchen paper. Season with salt and pepper and arrange in a container. Squeeze the lemon juice into a bowl (use 1 and 1/2 or 2 if it is too small or spoiled in the liquid) and beat with honey, mustard, vinegar, Worcestershire sauce, and olive oil.
Pour over the chicken and spread it well. If we cover this step over time, we can store it in the refrigerator for a few hours or overnight. Let the oven warm a little before frying.
Arrange the chicken with all the pickle juice in the bowl, add the carrots, garlic, and thyme. Water with broth or wine, a little water. Lower the temperature to 180 ° C and bake for 20 minutes.
Carefully flip each slice and continue cooking for an additional 20-25 minutes, adding more liquid if necessary. Finally, raise the pan to the final oven level, activate the grill, and cook for approximately 2-3 minutes.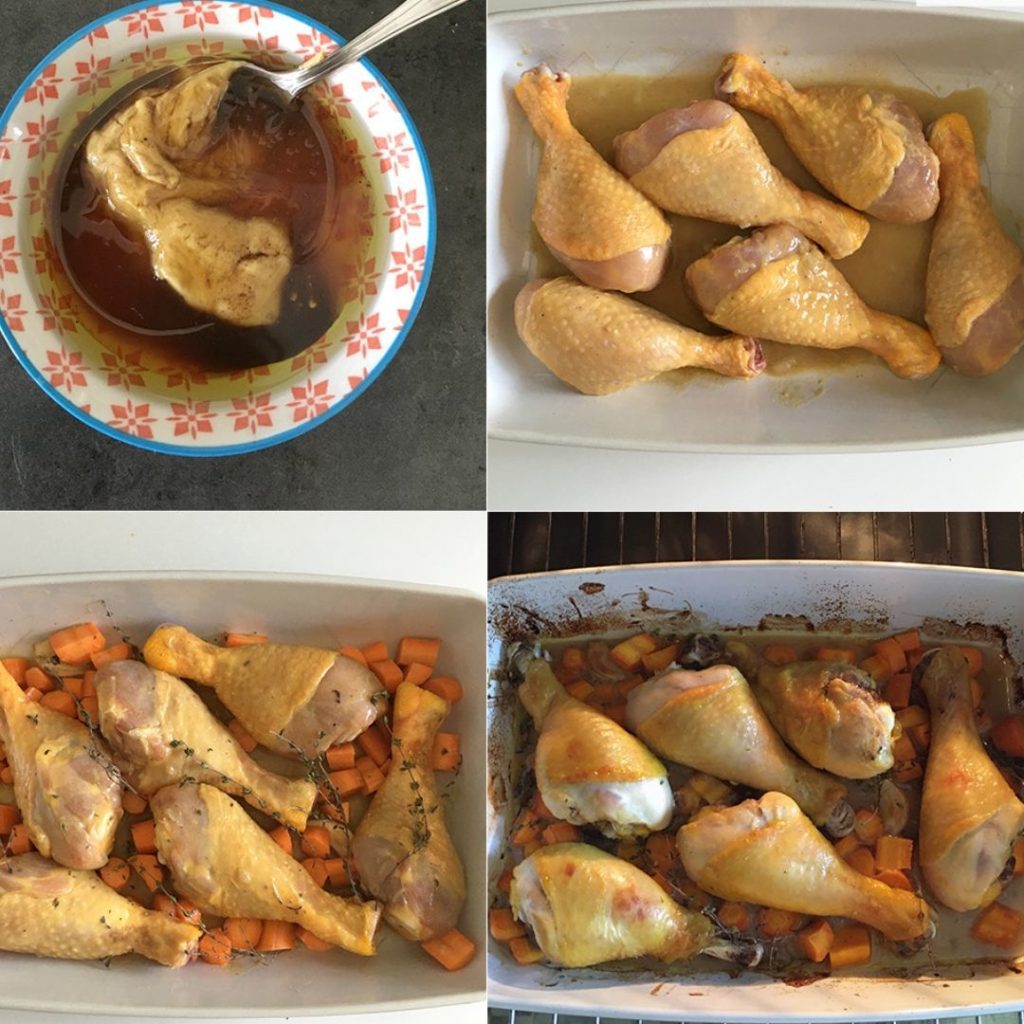 ---
---
Nutrition
Serving Size:

3

Calories:

576

Sodium:

252

Fat:

32.3

Saturated Fat:

6

Carbohydrates:

20.6

Fiber:

3

Cholesterol:

147
Keywords: How to Make Baked Chicken Drumsticks